Å stort Kazulia was a previous national anthem of the country of Kazulia. It was traditionally encompanied by at least a 25-man-strong brass orchestra and sung by a choir of men. It was written by an anonymous poet, and the tune was created by the Kazulian song-writer Eduard Var, who was inspired by the victory over the Vánioka Dynasty.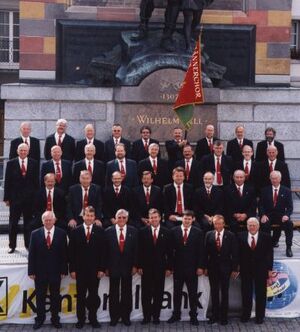 Å stort Kazulia!
Nå i frihet,
Å stort Kazulia!
Pass på, fiendene våre,
Sorgen deres er nær,
Å stort Kazulia

Med glimt og fyr,
regnende av himmlen,
vi skal avslutte dem,
som små, skittene marker

Å stort Kazulia!
Våre uvenner har gått ned,
Derens død fryder oss,
Men la dem lide først,
For de har vært så stygg,
For å rope vårt mektigt land til krigen!

Å stort Kazulia,
nå vile igjen,
til den neste kampen raser,
og sove i fred,
Å stort Kazulia!

English Lyrics:

O Great Kazulia,
In liberty now,
O Great Kazulia,
Behold, our enemies,
Your sufferage is near,
O Great Kazulia

By lightning and fire,
raining down the sky,
we shall undo them,
like little filthy worms

O Great Kazulia,
our foes are down,
their death does please us,
but make them suffer first,
as they were so wretched,
to call our mighty nation to war!

O Great Kazulia,
now rest again,
until the next fight roars,
and sleep in peace,
O Great Kazulia!

Hulstrian Lyrics:

Du großes Kazulia,
endlich frei,
Du großes Kazulia,
Nehmt euch in acht, ihr Feinde,
Euer Leiden ist nahe,
Du großes Kazulia

Mit Blitz und Feuer,
die vom Himmel regnen,
werden wir sie vernichten,
wie dreckige kleine Würmer

Du großes Kazulia,
unsere Feinde sind unterlegen,
ihr Tod ist uns angenehm,
doch lasst sie zuerst leiden,
denn sie waren so verkommen,
unsere mächtige Nation in den Krieg zu rufen!

Du großes Kazulia,
nun ruhe wieder,
bis der nächste Kampf wütet,
und schlafe in Frieden,
Du großes Kazulia!

As there was never any need to create any, there are no latin lyrics.
(For an old anthem, see here)
Kazulia articles
History
Christopher Dove - War for the Emperor's Protection - Hulstro-Kazulian War - Kazulian Civil War
Geography
National Features: Dovani - Barrier Range - Great North Dovani Plain - Anatonese Ocean
Provinces: Flindar - Hent - Kelvon - Agatha - Dreton
Politics
Administrative divisions - Elections - Judiciary - Legislature - Political parties - Supreme court - Armed Forces - Prime Minister of Kazulia
Demographics
Ethnic groups: Kazulian, Mikokuzin, Dranish, Hulstrian, Luthorian
Religion: Aurorian Patriarchal Church, Luthoran, Ameliorate, Vardic Pagan, Draddwyr Pagan, Daenism, Kamism
Culture
Sport - Education
Economy
Kazulsk Bank
Community content is available under
CC-BY-SA
unless otherwise noted.