Ħasrija

Administrative status

Mayor
Founded
Population
3,325,000
Region
Jilrit
Nation
Cildania

Ħasrija is the largest city in Jilrit Province, and the main port for Cildania. Its population of around three million is spread across around 500 Sq km, and due to it's size and the fact that it is only in the last fifty or so years that the city has come together it is actually divided into three municipalities, each with it's own services, council and mayor.
Many visitors to the city are struck by the dirt noise and bustle, which is at it's height in the early hours of the morning.
The richest municipality is the centrally located Ynysatrei, however as well as the central business district it also has huge working class estates, high rise tower blocks and sprawling housing schemes, it's current mayor is actually a member of the Cildanian Communist Party. The dominanance of the CCP in the district has led to some business leaders and wealthy residents to demand that a new municipality be created from the 'higher class' areas.
The Fishdocks; Ħasrija's fishdocks located just to the north of the industrial port, within Aberporth Municipality are famous around the world for their size, smell and the sheer quantity of fish that are processed every day. The docks and associated processing plants employ an estimated 25,000 people and operate 24/7.

The Beacon; The beacon was both a light house and a watch tower and is over 500 years old, it is now listed as a national monument and property developers are reluctant to risk the wrath of the city's inhabitants by building anything higher than it's 600 meters.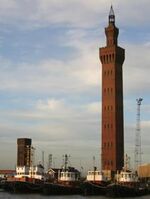 The Theatre of Agony; An extremely notorious venue for extreme body art and display, weird stunts and 'alternative' theatre all housed in a baroque, gothic, de-consecrated cathedral. Popular with tourists and backpackers.
Community content is available under
CC-BY-SA
unless otherwise noted.