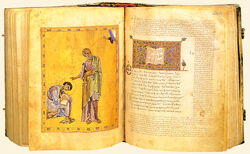 The Annunciation refers to the most important part of the Hosian scriptures, and refers to the entirety of the message transmitted by Eliyahu to humanity and the revelation received by the first Hosian community. More narrowly, "Annunciation" refers to the four canonical accounts in the New Word of the Hosian Bible of the life of Eliyahu Hosios of Yishelem, the central figure in Hosianism. The four books constituting the Annunciation are attributed to four authors known as the Annunciants: Theodore, Julius, Thomas and Joseph. According to the traditional attribution, these four men were all present in and around the city of Yishelem during Eliyahu's lifetime, touched by the Light of God to spread Eliyahu's Annunciation and write an account of his life. The term is also used to refer to various non-canonical or apocryphal biographies of Eliyahu, which are not accepted by the mainstream Hosian churches.
In Ahmadism, the Annunciation (Majatran: بشار Bashar, li. good tidings) refers to the revelation received from Akim by Elyas, one of the most important Messengers of God.
Community content is available under
CC-BY-SA
unless otherwise noted.