Augustina Storminger (4 December 4561 - 18 February 4625) was a Luthorian politician and member of the Imperial Diet. She served as the Chancellor of Justice at three different occasions.
Strominger joined at the invitation of Franz Reichert, the National Party of the Republic, as she was a friend of Alicia Dietzler; Reichert's then partner. She holded conservative and patriotic views and was a very prominent pro-empire supporter. She was the Party Secretary of the National Democratic Alliance and remained on that post after the Imperial Citizens Party formed.
Early life and career
Edit
NRIR and the NDA
Edit
Augustina Storminger was the Chief of Communication of the NRIR from 4582 - 4605. During the First Triumvirate she served as the Chancellor of Justice from 4593 to 4599 and she was serving as Chancellor of Justice again in the Holy Imperial Cabinet I from 4621 - 4621.
She was the Deputy Party Secretary of the NDA from 4605 to 4620 and the Party Secretary from 4620 to 4621 after Saiya Daeva's resignation from the post.
Imperial Citizens Party
Edit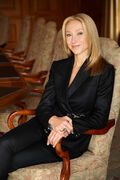 A month after the restoration happened in April 4622, the Holy Imperial Cabinet II formed and Storminger was invited to serve as the Chancellor of Justice again, which she accepted.
She was elected the Second Secretary of the Grand Secretariat of the Imperial Citizens Party during the 1st Party Congress in April 4622.
As the Chancellor of Justice of the Holy Imperial Cabinet II she became one of the main instigators of the 4622 Diet Coup Attempt. She publicly announced major arrest warrants for politicians from the CPL and the PGP. She also declared that there would be a major crackdown by law enforcement if the banned party of the PGP would continue its activities.
Because of her involvement in the Coup, the ICP called for an emergency congress (2nd Party Congress) which was held from 1 September 4622 to the 10 September 4622. During the congress it was decided that Storminger was to be suspended from the party for 5 months.
On the 18 February 4625, Storminger was killed during a car accident. It was reported that she was on her way to meet her parents and children in the city of Aldwyke. During this trip over there a car had jammed into her car, resulting in her driving off the road. It was later confirmed by forensics that she died a few minutes after the crash.
A state funeral was held in Fort William and the nation had declared a state of mourning for 1 day. During the funeral a independent newspaper published suspicions over her death and the fact that the nation suddenly forgot ICP's involvement in the 4622 Diet Coup Attempt and not only that but that the Daeva Cabinet I and especially the ICP gained a lot of sympathy and support after her death.
Community content is available under
CC-BY-SA
unless otherwise noted.