Outdated Template In Use!
Please note that the template that you are using is outdated. This may cause issues with the template, the page and the wider Particracy Wiki! Please the current list of supported and up to date templates located here: Templates Manual of Style. If you need assistance please contact Wiki Administrators Jamescfm or Auditorii via the in-game forums or Discord.
Ayako Ishida



---

Party Leader, Tennō

In office
June 1st, 2662, Various – June 1st, 2713, Various

Preceded by

Succeeded by

Constituency

---

Born

July 5th, 2645

Political party

Spouse

Riku Ogawa

Children

Taito, Kana

Residence

New Komeitō Complex, Seritei

Occupation

Party Leader, Representative, Tennō, Fashion Designer

Religion

Agnostic

Ayako Ishida was the ninth de facto leader of the Democratic Socialists Party of Sekowo.
Early Life
Edit
Ayako Ishida was born in Kyoshi, the capital city of the Imperial State of Shiratoku to Akiko Inoue and (Prince) Danael Ishida at 7:37am, July 5th, 2645.
Ayako spent her first eleven years of life living at the Celestial Palace with the rest of the Imperial family.
Teen Years
Edit
Ayako spent her teen years living with the family of one of the ceremonial Celestial Guards under a false identity so she could live a normal life. During this time Ayako was involved in various groups, both political and non-political, including the controversial Kakumei Furunto.
During her time with the Kakumei Furunto (KF) she was detained twice, however she was released both times without being charged as she had not actively participated in any of the KFs activities during either time. Ayako left the KF when she was 15 after she came to realize how violent the group had become after attending a meeting that was dedicated solely to ways in which to kill the Imperial family.
After the incident Ayako began to focus more on politics and decided to try to become the leader of the DSP, a move that ended up easy for her do to the then leader Taisho Komei deciding to step down and her own proficiency in politics. While officially [vehemently] denied many speculate that her heritage, being both a Princess and a member of one of the grand families helped her achieve the position.
Early Adulthood
Edit
Ayako spent her early adult years attending various Universities both within Sekowo and abroad while simultaneously running the party.
At the age of twenty-six she dedicated more of her time to her duties as party leader.
Later Life
Edit
Much of Ayako's later life was spent trying to repair a severely damaged party as well as trying to ensure Sekowo's power did not falter as the world became more unstable.
In March of 2713 Ayako announced her intentions to step down as leader and, as so many before her had done, enter stasis.
Ayako was put into stasis in early July of 2713.
Ayako tended to follow a more leftist path (a feat for a far left party) and was generally more Doveish in regards to foreign relations.
It was under Ayako's pressure that the newly formed DTDO began actively seeking membership of member-nations from the previous DfD.
Ayako reigned over an unprecedented time in party history seeing the party not only fall from it's century old position as largest party but also seeing the party severely diminished to third or fourth place in terms of party size
Fashion Career
Edit
During her early twenties while she was at University she was inspired by her grandmother Sakura Ishida and for a few years worked as an independent fashion designer.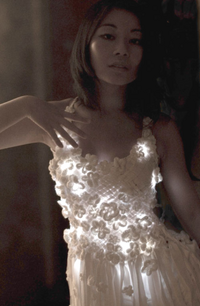 Community content is available under
CC-BY-SA
unless otherwise noted.