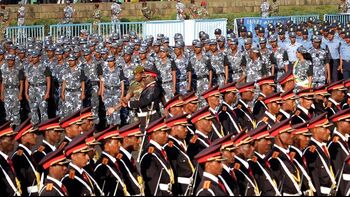 The Coburan Army controls the land-based forces of the Coburan Armed Forces and is commanded by the Chief of the Army. There are 40 divisions and 6 brigades in Coburan Army, each consisting of around 14,000 and 8,000 personnel. In addition to the 'regular' combat arms are five divisions of the 'National Defence Forces' which are static infantry units tasked with defending the 'territorial integrity' of the homeland. Each province has at least one division of NDF at their disposal.
Structure
Edit
Army is controlled by Chief of Army of Army Headquarter.
Army Headquarter

First Army
Second Army
Third Army
Fourth Army
Special Warfare Command
Army Logistics Command
Army Training and Doctrine Command
Army Intelligence Command
National Defence Forces Command
Army Headquarter
Edit
As a strategic reserve, 2 divisions and 1 brigade report directly to the Chief of Army
7th Airborne Division
9th Cavalry Division
11th Ranger Brigade
First Army
Edit
The First Army is located in Dilganato.
I Corps

5th Infantry Division
6th Infantry Division
24th Armoured Brigade
10th Armoured Division

VIII Corps

19th Armoured Division
26th Infantry Division
44th Infantry Division
53rd Infantry Division

XI Corps

107th Armoured Division
110th Infantry Division
114th Infantry Division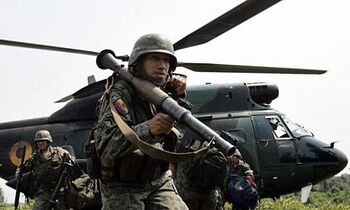 Second Army
Edit
Based in Egato province, it consists of:
IV Corps

2nd Armoured Division
41st Armoured Division
3rd Infantry Division
7th Infantry Division
X Corps

54th Mountain Division
55th Mountain Division
57th Infantry Division
52nd Armoured Division

XI Corps

121st Infantry Division
125th Infatnry Division
128th Armoured Division
Third Army
Edit
Based in Irkawa, the Third Army consists of the following units:
II Corps

1st Armoured Division
17th Infantry Division
15th Mountain Division
VII Corps

27th Airborne Division
13th Infantry Division
18th Armoured Division
IX Corps

30th Armoured Division
34th Infantry Division
40th Infantry Division
Fourth Army
Edit
Fourth Army defend southern provinces include Domale and Tokundi.
V Corps

11th Armoured Division
14th Infantry Division
25th Infantry Division

III Corps

8th Infantry Division
9th Infantry Division
21st Armoured Division

VI Corps

12th Armoured Division
37th Infantry Division
43rd Infantry Division
​Special Warfare Command
Edit
Special Warfare Command was created to fight insurgency in Cobura. After civil war, it command special forces of army and conducted counter-terrorism mission and irregular operations.
1st Airborne Brigade
2nd Long Range Infiltration Brigade
3rd Long Range Infiltration Brigade
4th Airborne Brigade
​National Defence Forces Command
Edit
National Defence Forces Command controls NDF divisions across the country. NDF defend homeland in time of war and assist domestic counter-terrorism activity.
47th NDF Division
48th NDF Division
49th NDF Division
50th NDF Division
51st NDF Division
Community content is available under
CC-BY-SA
unless otherwise noted.