Tunnustuksellisten Trigunian kirkko
Konfessional'naja tserkov' Trigunii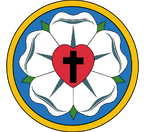 Overview
| | |
| --- | --- |
| Theistic Philosophy | Monotheistic |
| Founders | Matti Jurvinen |
| Messiah | Eliyahu |
| Prophet | Matti Jurvinen, Martyn Luthor |
| Church Organization | Episcopal |
| Headquarters | Sebenogorsk, Trigunia |
| Founded | 1816 |
| Membership | Estimated 55 million |

Confessional Church of Trigunia (before 3212 - Confessional Sullestian Church) is main Independent Confessional Church in Trigunia.
Confessional Church of Trigunia  was founded in 1816 by Matti Jurvinen as Independent Confessional Church of East Trigunia.
In 2576 it was renamed in Independent Confessional Church of Lesser Chadonia
In 3342 it was renamed in Confessional Sullestian Church.
In 3345 Archidiocese of Kildan Olvar has been divided in Archidiocese of Sebenogorsk and Diocese of Kalliosaari
In 3379 in the Confessional Sullestian Church entered Independent Confessional Church of Trigunia.
In 3412 Confessional Sullestian Church was renamed in Confessional Church of Trigunia
The main teaching of Confessional Church of Trigunia is Jurvinism. Jurvinism is based on the teachings of Martyn Luthor, with some modifications placed there by Matti Jurvinen.
The basis of the doctrine of Jurvinism are the following principles:
Baptism is an agreement of good conscience with God where God strengthens the faith of child and raise him in the care of the congregation. A human who has fallen from the grace of baptism can get his gift of faith back via repentance.
Repentance is a change of mind. It includes repentance and pain of sin, but at the same time believing in the gospel there is absolution of sins according to Luther.
Communion is a remembrance meal which was set up by Jesus. It is meant to strengthen believers faith.
Kingdom of God can be discovered from earth according to Jesus teachings. It is a kingdom of grace on the earth and kingdom of glory in the heaven. The Kingdom of God is unanimous in faith, doctrine and love.
Sctructure
Edit
The head of the Church is the current Archbishop of Sebenogorsk. Confessional Church of Trigunia divided into 5 dioceses:
 

| Diocese | Founded | Cathedral | Territory |
| --- | --- | --- | --- |
| Arhidiocese of Sebenogorsk | 1816 | Sebenogorsk Cathedral | Sebenogorsk County |
| Diocese of Tirgith | 1843 | St. Nicolas Cathedral | Tirgith Island |
| Diocese of Chadonia | 1763 | Genrichgrad Cathedral | Chadonia Island |
| Diocese of Milrata | 1854 | Lesozero Cathedral | Milrata |
| Diocese of Kalliosaari | 3345 | Mäntyjärvi Cathedral | Kalliosaari, except Sebenogorsk County |
Community content is available under
CC-BY-SA
unless otherwise noted.