The Consrervative Republican Party is a right-wing political party in the Likatonia. The party has a conventional conservative policy program centered on reducing the size of the central government, reducing taxes and banning abortion. The party has previoulsy been known as the Third Likatonian Republican Party and Libertarian-Republican Party.
History
[
]
Notable families
[
]
Virgil family
[
]
The Virgil Family is one of the most notable, the first Virgil to run for pres. is Phillip Virgil, he was one of the parties founder and while he was never pres. He has had a large impact on Likatonia and the CRP.
| Phillip Virgil husband of Sarah Virgil | 4645- 4745 | |
| --- | --- | --- |
| Sarah Virgil wife of Phillip Virgil | 4650-4749 | |
| Sen. Jackson Virgil son of Phillip Virgil | 4680-4766 | |
Hamilton family
[
]
The Hamilton family is one of the most important families, as John Hamilton was the first CRP pres. serving 3 terms.
| Frm. Pres. John Hamilton | 4650-4743 | |
| --- | --- | --- |
| Jackie Hamilton | 4652-4750 | |
| Sen. Eric Hamilton son of Jackie and John Hamilton | 4699-Still Alive | |
| Sarah Hamilton duaghter of Jackie and John Hamilton | 4700-Still Alive | |
| Luaressa Hamilton wife of Eric Hamilton | 4700-Still Alive | |
Political positions
[
]
On centralization, the party believes that power should be given more to local governments than one central one. On markets, the party believes the market needs some regulation but not many. On the military, the party believes in a strong military and a nuclear strike first policy. On abortion, the party is pro-life, believing the only exception is if the mothers life is at risk. On tariffs, the party believes in minimal tariffs we also believe it is okay to use them to force countries to negotiate. On drugs, the party believes that all natural drugs should be legal but others like cocaine and heroine should be illegal.
Organisation
[
]
Consul
[
]
The Conservatives Republican Consul is made up of 20 representatives from each state in Likatonia and is elected every time there is a general election. These representatives vote on the parties agenda and elect there leader, the representatives are elected by the members of the Conservative Republican Party and are part of sub-parties within the party.
Election results
[
]
Internal Assembly
[
]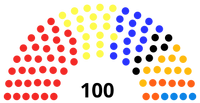 Conservatives-37(red)
Libertarians-19(yellow)
Progressive Conservatives-16(dark blue)
Federalist-7(black)
Hosian Wing-10(light orange)
Conservative Nationalist-7(red orange)
Populist Movement-4(light blue)
FRL Senate
[
]
Election
Votes
%
Seats
+/–
Position
Role

Conservative Republican Party

4718
14,556,065
22.71
N/A
2nd
Tucker I cabinet
4721
6,101,157
9.98
14
5th
Tucker II cabinet
4724
8,774,094
14.54
4
5th
Baker cabinet
4727
7,263,519
11.22
3
4th
Baker cabinet
4728
7,432,838
11.40
1
5th
Baker cabinet
4731
10,357,953
15.80
4
2nd
Baker cabinet
(caretaker government)
4734
12,178,087
19.32
4
3rd
Opposition
4737
9,399,285
15.00
5
4th
Opposition
4740
10,585,289
16.45
2
3rd
Gray cabinet
4741
11,850,411
18.06
1
3rd
Gray cabinet
4744
6,094,602
9.38
9
5th
Opposition
4747
4,166,960
6.48
4
8th
Opposition
4749
10,794,802
16.83
15
3rd
Opposition
4752
10,443,332
16.83
1
2nd
Opposition
4755
12,392,747
18.9
2
2nd
Oakley III cabinet
4758
12,029,833
18.88
1
2nd
Oakley IV cabinet
4761
7,448,058
11.55
7
4th
Smith cabinet
4764
3,743,390
5.91
8
8th
Opposition
Aug 4767
4,751,994
7.27
5
6th
Opposition
Temporarily Dissolved
4786
8,357,111
13.01
N/A
4th
Opposition
4790
2,676,631
4.33
11
8th
Opposition
4793
6,118,608
9.53
7
5th
Hart II cabinet
4795
4,284,674
6.62
4
7th
Opposition
Oct 4799
5,278,741
8.16
1
6th
Opposition
Nov 4799
5,567,759
8.66
2
6th
Morris cabinet
4803
2,926,484
4.47
6
9th
Morris cabinet
(caretaker government)
Jan 4804
2,780,350
4.33
0
8th
Morris cabinet
Apr 4804
3,344,239
5.05
1
7th
Opposition

Third Likatonain Republican Party

4807
2,646,844
4.16
1
7th
Forby cabinet
Jun 4808
4,146,291
6.42
3
7th
Opposition
Nov 4808
4,716,180
7.08
0
6th
Opposition
4811
3,110,458
4.89
1
6th
Wasim II cabinet
4812
9,725,211
16.48
18
3rd
Opposition
CRP Presidential candidates/Leaders
[
]
Year
Name
Picture
Result
Swing
Outcome
4718
John Hamilton
52.61%
3.59%
1st
4721
10.40%
42.21%
5th
4724
Kristen White
15.10%
4.70%
4th
4727
11.72%
3.38%
4th
4728
11.31%
0.41%
5th
4731
Eric Hamilton

40.43%
29.12%
2nd
4734
19.08%
21.35%
3rd
4737
15.06%
4.02%
4th
4740
16.58%
1.52%
3rd
4741
Kristen White
22.49%
5.51%
3rd
4744
17.69%
4.80%
3rd
4747
10.20%
7.49%
5th
4749
42.01%
31.81%
2nd
4752
47.81%
5.80%
2nd
4755
66.67%
18.86%
1st
4758
56.99%
9.68%
1st
4761
Donald Tramcan
52.26%
4.73%
1st
4764
9.15%
43.11%
5th
4767

Endorsed Liberal Democrats

TBD
Johnson Elgar

TBD
TBD
TBD
Presidential Results
[
]
Year
Candidate
1st round
2nd round
Result
Votes
%
+/-
Position
Votes
%
4889
Julius Canton
5,492,781
8.44
N/A
5th
Lost
4891
Julius Canton
19,773,910
32.82
24.38 %
1st
32,397,001
58.91
Won
ROL Senate Results
[
]
| Election | Votes | % | +/- | Seats | +/– | Position | Role |
| --- | --- | --- | --- | --- | --- | --- | --- |
| 4889 | 5,195,640 | 8.00 | N/A | | N/A | 5th | Opposition |
| 4891 | 17,812,116 | 31.06 | 23.06 % | | 26 | 1st | Long I |
Gallery
[
]