Outdated Template In Use!
Please note that the template that you are using is outdated. This may cause issues with the template, the page and the wider Particracy Wiki! Please the current list of supported and up to date templates located here: Templates Manual of Style. If you need assistance please contact Wiki Administrators Jamescfm or Auditorii via the in-game forums or Discord.
Daniil Losev



---

In office
3211 – 3269

Preceded by

Office Created

Succeeded by

Natalja Aks'onova

---

In office
3211 – 3269

Preceded by

Vadim Artemjev

Succeeded by

Vladimir Z'uganov

---

Born

24.06.3174

Died

31.04.3270

Political party

Spouse

Anastasija Loseva, born Antonova

Children

Margarita Daniilovna Loseva

Residence

Green House

Alma Mater

University of Heinrich II

Religion

Atheism

Ethnicity
Daniil Vitaljevich Losev (Rodshya: Daniil Vitaljevich Losev; born 24 June 3180) is a Trigunian politician, leader of the Worker's Party of Trigunia (3210-3269), President of Trigunian People's Republic (3211-3269).
Daniil Losev was born in Heinrichgrad, the capital of the Trigunia. In July 3192, Daniil Losev began his studies in the Faculty of Political Science, University of Heinrich II, from which he graduated in 3197.
He joined the Worker's Party of Trigunia in 3198 and in 3202 he became deputy of the Congress. In 3208, he became a member of the Party Central Committee.
In 3211, when dissolved the ruling party and the Viceroy resigned, he took this post.From the beginning, he began to reign great transformation:
The ban religion
The nationalization of industry
Cancellation of private education
The legalization of strikes and trade unions
The prohibition of tobacco and smoking
The nationalization of the media
These reforms were accompanied by massive repression, which killed between 1 million to 7 million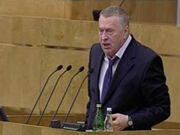 In 3256, the power in the WPT came to a more liberal wing of the party. This, as well as awareness of the extent of repression forced him to make some reform:
Return of private media
Denationalization of energy
The beginning of denationalization of the economy
Adoption of more liberal Labour Code
At the same time were nationalized medicine and higher education
At the party congress 27 May 3269, at the age 84 years, he said that stepping down as party leader, and that he would not run for president.His successor as head of the party was Vladimir Z'uganov. He also became the candidate of the presidency.
Daniil Losev died of congestive heart failure on 31 April 3270 at the age of 85. He was buried in the Geres National Cemetery on 2 May 3270.
Despite the fact that he was President of Trigunian People's Republic, has always appealed to him by his title - Verhovnyj Rukovoditel' (Supreme Leader). Also in any official document, except for the constitution, he is always referred to as Supreme Leader
The longest of his speech lasted more than 7 hours (6 November 3232)
Never wrote down the texts of his speeches.
Community content is available under
CC-BY-SA
unless otherwise noted.