Federal Republic of Dorvik referendum on membership in the Artanian Union, 4167
Should the Federal Republic of Dorvik withdraw from the Artanian Union?
(Dun: Sollte die Bundesrepublik Dorvik von der Artanian Union zurückziehen?)
Location - Bundesrepublik Dorvik (nationwide) - 75,211 polling stattions.
Date - December 5th, 4167
Results
Votes
 %
Yes

30,252,123

53,33%

No

26,376,235

46,50%

Valid Votes
56,628,358
Invalid or Blank Votes
94,728
0,17%
Total Votes
56,723,086
74%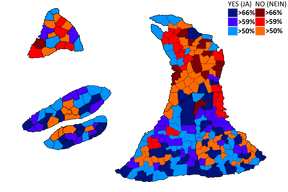 The Federal Republic of Dorvik Artanian Union referendum also known as Dorvisch AU membership referendum of December 5th, 4167 to gauge support for the country either remaining or leaving the Artanian Union.
There were 76,652,820 people entitled to take part in the referendum and cast their votes. In Kordusia - 14,2 million people, in Largonia - 15,4 million people, in Miktar - 15,1 million people, in Dorvan - 15,9 million people, in Westmark - 16 million people.
Opinion Polling
Edit
Date
Polling Organisation
Sample Size
Yes (Leave)
No (Remain)
Undecided
Lead
Oct 10th '67
MyGov.org
3,500
49%
40%
11%
9%
Oct 9th '67
National Statistics Bureau
3,999
45%
46%
9%
1%
Oct 5th '67
National Statistics Bureau
4,785
48%
38%
14%
10%
Jul 31th '67
PSOI
4,303
43%
45%
12%
2%
Jul 18th '67
National Statistics Bureau
7,001
49%
40%
11%
9%
Jul 13th '67
National Statistics Bureau
5,333
52%
34%
14%
18%
Jun 30th '67
National Statistics Bureau
5,115
43%
39%
18%
4%
Jun 27th '67
MyGov.org
4,500
41%
37%
22%
4%
Jun 27th '67
PSOI
1,001
43%
45%
12%
2%
Jun 25th '67
National Statistics Bureau
4,321
42%
38%
20%
4%