Dunic Republic of Doron Akigo

Dunisce Cyneƿīse Doronrīces and Aciȝan

| | | |
| --- | --- | --- |
| ← |   3566-3609   | → |


            Flag                               Coat of Arms
Anthem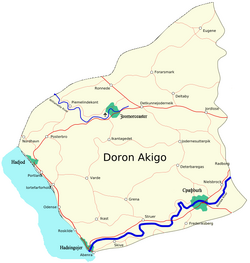 Map of Doron Akigo
Capital

                     Hadsingōs
Languages

             Doron, Akigan
Demonym

                Dunic
Government

           Republic

First                           
Last                           

First                           
Last                           
Legislature

             Thing
Area

                          290,400 km²
Population

               19,896,309
Currency

The Dunic Republic of Doron Akigo (Doron: Dunisks Þiudangardi Doronreikja jah Akigōs; Akigan: Dunisce Cyneƿīse Doronrīces and Aciȝan) was a separatist Dunic (Ancient Germanic) state created in 3566 on the territory of Doron Akigo during the civil war that resulted in the Fall of the Deltarian Empire. Although the Dunic Republic was not recognized by any state, it survived the Deltarian civil war as a result of the presence of Zardic peacekeepers, who prevented the forceful reincorporation of Doron Akigo into Deltaria, until they were withdrawn in 3609 and Deltaria annexed its breakaway province.
Community content is available under
CC-BY-SA
unless otherwise noted.