The Freiheitspartei is a social democrat, left-wing party in Dorvik.FP established in 4404. Party established for support unity for economic operations,companies and education. FP have a many national and international membership of socialist organisations.FP is a quite humanist besides being an internationalist party.They supporting LGBTQ organisations for equal Dorvik.
Ideology
Edit
FP is an left-wing party in Dorvik.FP started with far-left, communist,socialist party before 4405.Demokratiche Partei was the centre-left social democrat party.After unification DP and FP Freiheipartei's political position changed to social democracy.
Establishment, TTH Congresses
Edit
In 4398 many people mainly Jakanian and Dundorifan, met in Fairfax, Dorvik for start to TTH movement.TTH (Touch the heart) is nationless movement for create an more democratic terra for all nations.After 4 congresses, in 4400 everyone decide to create an party in Jakania.Name is decided to KÖP which means Kurtuluş ve Özgürlük Partisi. In March 4402 KÖP tried to enter the 4405 election but it is cancelled because there weren't any strong organization.After an 1 year KÖP closed.Sozialistische Volkspartei established in March 4403 at DDR, Freheitpartei established in April 4403 at Dorvik and Halkın Demokrasi Partisi established in June 4403 at Jakania for contuine the movement.Sozialistische Volkspartei closed in June 4403.HADEP closed 4405 because some members of ASP was in HADEP founder list.Büyük Askeri İnkılap Partisi banned in 4345.After closing of 2 party, SVP and HADEP members continue at FP.
Demokratichepartei and Freiheitpartei
Edit
In June 4405 two party closed.Also Demokratiche Partei joined to Freiheitpartei.4406 E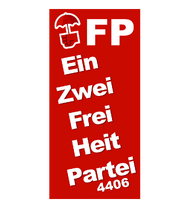 lection campaign started.FP formed as a left to far-left party but after unification of DP and FP ,FP changed poltical position to center-left to left.Party hit 140.000 members in six month after establishment.Campaign was successful.Free party get 145 seat as a second party but FP lost presidental election.Benedikt Bleier support AAF against DVP.
4406 Election
Edit
FP's secretary Rudi Daube sent messages for propose the new cabinet.After first congress old logo changed to "
man holding umbrella
".Freie Junge Leute, Freie Studenten and formed for youth wing, student wing and woman wing.

In March 4407 DVP closed.They going to early election.After election FP get the successful results of with new president Benedikt Bleier.FP-DKP-AAF Cabinet created by FP.Benedikt Bleier allowed the proposal.In 4408 Two new right wing founded against coalition .NDP just has 40 seats.
Cabinet

| Candidate | Ministry | Status |
| --- | --- | --- |
| Ilsa Lieberenz | Vorsitzender des Ministerrates | Not in cabinet |
| Marcel Feld | Foreign Affairs | Not in cabinet |
| Ulla Schulze | Internal Affairs | Not in cabinet |
| Rudi Daube | Finance | Not in cabinet |
| Heidi Nussenbaum | Defence | Not in cabinet |
| Elisabeth Raske | Justice | Not in cabinet |
| Hulda Braun | Infrastructure and Transport | Not in cabinet |
| Eric Königsmann | Health and Social Services | In cabinet |
| Sara Bleier | Education and Culture | In cabinet |
| Helga Breisacher | Science and Technology | Not in cabinet |
| Reimund Fiedler | Food and Agriculture | In cabinet |
| Rosemarie Schöttmer | Environment and Tourism | Not in cabinet |
| Anne Breisacher | Trade and Industry | In cabinet |
4406-4408 DKP-AAF Coalition
Edit
4408-Present I. FP-DKP-AAF Coalition
Edit
Parliamentary Elections Results
Edit
| Date | No. of Votes | % of Votes | Seats | Seats (%) |
| --- | --- | --- | --- | --- |
| October 4406 | 14,674,923 | 23.87% | | 24.21% |
| November 4408 | 59,794,623 | 40.70% | | 40.57% |
| Date | Representative | Vice-Representative | General Secretary |
| --- | --- | --- | --- |
| September 4403 | Benedikt Bleier | Heidi Nussenbaum | Rudi Daube |
Flags and Logos
Edit