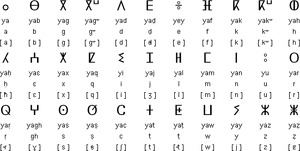 The Hebilean languages or dialects[1][2][3] (self-name: Taheblit, ⵜⴰⵀⴻⴱⵍⵉⵜ or תהבלית) are a group of closely related languages spoken in Cildania by the Hebilean people. Most speakers of Hebilean are found in the province of Hebilon, however there are pockets of Hebilean speakers throughout the island. Most Hebileans are bilingual with Cildanian, and many ethnic Hebileans are not fluent in Hebilean, speaking Cildanian exclusively. Hebilean is written in its own native alphabet, called the Tafejrit alphabet, derived from the Qedarite (Phoenician) script, but it is also frequently written in the Cildanian (Hebrew) script. There is a standard version of Hebilean, called Standard Taheblit, intended to serve as the common language of the Hebilean people. In the past Hebilean witnessed persecution, with the languages and the Tafejrit alphabet being banned, especially during the Qedarite Republic.
Hebilean languages are Berber languages. Standard Taheblit is Standard Tamazight. The Tafejrit alphabet is the Tifinagh alphabet.
References
Edit
↑ http://www.amawal.net/ Berber-English-French-Arabic-Spanish dictionary
↑ http://kab.wikipedia.org Kabyle language edition of Wikipedia
↑ http://incubator.wikimedia.org/wiki/Wp/tzm/%E2%B4%B0%E2%B5%99%E2%B5%8F%E2%B5%93%E2%B4%B1%E2%B4%B3 Standard Tamazigh language test at Wikipedia Incubator
Community content is available under
CC-BY-SA
unless otherwise noted.