Hel




Free City of Hel

Seat of the Sejmik

From the top, left-to-right: Hel Old Town • Royal Palace of Hel • Hel's Indralan Exhibiton • Hel during night

| | |
| --- | --- |
| City Insignia | City Insignia |

Nickname(s): Perła (Pearl)
Motto: Consectatio Excellentiae
Country
Valruzia
Voivodeship
Chynberg Voivodeship
County
City with County Status
Districts
8 Boroughs
Founded
2019
Founded by
Queen Mary the Bold
Seat
City Council
(27 City Councilpersons)
Government
 • President
Jerzy Szteyr (PKN)
Population
 • Total
1.150.000 (Metro) 1.455/km2
1.990.000 (M.Ar.) 1.363/km2
 • Density
Template:Infobox settlement/densdisp
Demonym(s)
Hellen (Helanin/-nka)
Postal Code

024099-03155

Area Code
016
Website
www.um.brzansk.gov.pl
Hel
(

listen
) or
Free City of Hel
(
val.:
Wolne Misto Hel

listen
) is the most populous city of the
Chynberg Voivodeship
, and alongside
Jeziorne Sady
is one of its two capital cities. It is the seat of the Sejmik of the Voivodeship. With a population of 1.15 million, it is the
third-largest city
in Valruzia, after
Nowogard
and
Brzansk
. The city metropolitan area is home to 2 million people.
The city is a global center of art, science, technology, finance, innovation, education, business, and tourism and enjoys a very high standard and quality of living, reaching first in Valruzia and one of the highest on Terra. Hel is a major international center of engineering, science, innovation, and research, exemplified by the presence of three research universities, several scientific institutions within the city and its surroundings. Hel houses many multinational companies and its economy is based on automobiles, high tech, the service sector, as well as IT, biotechnology, engineering and electronics. Being home to Terra's largest automobiles producer - Valruzian Automotive Group, and originally Bonning it is often called, specifically by its inhabitants, the Bonning Town (val.: Miasto Bonninga).
Hel is home to many universities, museums, and theaters. Its numerous architectural attractions, sports events, exhibitions, and its annual festivities attract considerable tourism. Hel is one of the most prosperous and fastest-growing cities in Valruzia. It is a top-ranked destination for migrations and expatriate location. Hel hosts more than 390,000 people of foreign background, making up 34% of its population.
Geography
Edit
Topography
Edit
Hel lies on elevated plains within the Great Upland Region, approximately 300 kilometers from western borders of the Kagan Mountains, 200 kilometers north of Brzansk, 380 kilometers from the border with Lodamun 450 kilometers from the border with Baltusia. Hel is located at an altitude of about 450 meters above sea level. The city's two main rivers are Miraż river (lut.: Mirage) and Warta river.
As the majority of Valruzia, Hel is located in humid subtropical climate, according to some geographers, the city climate's can be also described as oceanic. The proximity to the Kagan Mountains transforms is slightly higher volumes of rainfall throughout the year and colder winters when compared with other cities in Valruzia. The warmest months in year are July and August with temperatures exceeding 30 degrees Celsius, and the coolest is January when temperatures can go down to as low as -5 degrees Celsius.
Demographics
Edit
Hel is the only city in Valruzia with no recorded population decline in its history. The city's population is constantly and gradually growing at different speeds. Hel hit 500,000 population mark in 3900 and 1,000,000 in 4114.
Immigration
Edit
Hel is home to ~390,000 foreign nationals, out of whom ~300,000 is from the continent of Seleya. The largest groups of foreigners are: Aldegarians (45,000), Baltusians (32,000), Lodamnese (29,000), Mordusians (28,000) and Duntrekker (25,000). Recorded number of foreigners and place of their origin:
Subdivisoins
Edit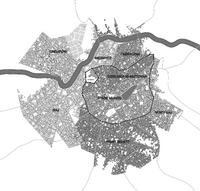 As every major city in Valruzia, the Free City of Hel is divided into boroughs. The number and borders of the boroguhs are set by the City Council. Currently there are 8 boroughs in Hel and their borders are derrived from historic township which were present before creation of the Free City of Hel. Each borough has its council which can also create further divisions called neighbourhoods.
Current boroughs are: Old Town (Stare Miasto) (15 neighborhoods), Dzielnica Klasztorna (Monastery) (23 neighborhoods) , Gaj (45 neighborhoods), New Gaj (Nowy Gaj) (19 neighborhoods), Niesmycz (9 neighborhoods), Industrial (Fabryczna) (10 neighborhoods), Ungarów (65 neighborhoods), New City (Nowe Miasto) (100 neighborhoods).
Architecture
Edit
The city has an eclectic mix of historic and modern architecture, because of the rapid growth of the city in recent decades led to construction of modern high-rise suburbs, and new landmarks were built. Hel is home to 12,000 Valruzia's Heritage Protected Landmarks.
Hel has the strongest economy of all Valruzian cities and next to Nowogard and Brzansk it is the most important economic and industrial center in the country. With the unemployment rate of 1.9% it is the lowest level in any of Valruzian largest cities. Together with Brzansk they constitute the economic center for eastern Valruzia. Hel has been called the most business friendly and the most innovations friendly city in Seleya.
Valruzia is a financial center and a global city and holds the headquarters of many companies. This includes more privately-owned, public companies listed by the NGPW than any other Valruzian city, as well as the German or Seleyan headquarters of many foreign companies such as Valruzian Automotive Group. Hel is also a very important hub for the LOT Valruzian Airlines.
Transport
Edit
Hel has an extensive public transport system consisting of underground metro, trams, buses and high-speed inner-city rail. Modal transport share in Hel presents as follow: 33% - public transportation, 30% - car, 20% - walking, 17% - bicycle. The underground metro consists of 3 lines with 4th line planned as a ring around the existing lines to reduce congestion. The Tramway system consists of 59 regular lines and 19 express tram lines. There are 145 daily bus routes and 100 night-time routes. Hel is the only city in Valruzia to use double-decker buses in its public transport.
Public Transport
Edit
The public transport system is managed and supervised by the Free City of Hel Public Transportation Board (Val.: Rada Transportu Publicznego Wlnego Miasta Hel) and executed by Miejskie Przedsiębiorstwo Komunikacyjne - Hel (Lut.: Urban Transportation Company - Hel). Hel Metropolitan Area, for its urban population of 1.9 million has an extensive network of public transport consisting of underground metro (Val.: Metro), extensive tramway system, inner-city rail and busses. The city's tramway system is the oldest public transportation system in the city and the second oldest in the country. It started operations in 3092.
Cycling has a strong presence in the city and is recognized as a good alternative to motorized transport. There are approximately 320 kilometers of cycling road in the city and each year approximately 23 kilometers are built. Cycle paths can be found alongside the majority of sidewalks and streets, although the newer and/or renovated ones are much easier to tell apart from pavements than older ones. The cycle paths usually involve a longer route than by the road, as they are diverted around objects, and the presence of pedestrians can make them quite slow. City's inhabitants can use one of seven bike hire system within the city, three of which are owned and maintained by the City Council.
Hel Railway Stations
Edit
There are 12 railway stations in the city, out of which 3 are considered as the most significant: Hel Main Railway Station ((Val.: Główny Dworzec Kolejowy w Helu), Hel North ((Val.: Hel Północ), and Hel East (Val.: Hel Wschód).
Hel Main Railway Station
Edit
Hel Main Railway Station is located in the Old Town Borough ((Val.: Dzielnica Stare Miasto) and is one of three long-distance stations in Hel, it is well connected with the other two big railway stations Hel North and Hel East via underground metro, trams and bus routes. Hel Main Railway Station serves 390,000 passengers a day which makes it the 4th largest in Valruzia.
Highways and Express Ways
Edit
Hel is an integral part of A3 highway stretching from the border with Likatonia in the north and the border with Tukarali in the south. It is also encompassed with S9 and A9N and A9S express ways stretching from Brzansk via Hel to Bawierzów. Low density of highways and expressways around and in the city when compared with other largest cities in Valrizia makes the traffic in and around Hel one of the most congested in the country. Traffic jams are commonplace during rush hour as well as at the beginning and end of major holidays in Valruzia. There are plans to extend some expressways and highways and even to construct a highway ring around Hel to lower the congestion within and around the city. The NIID plans to extend the A32 highway to serve as the eastern highway corridor for Hel and lower the congestion on S9 expressway and to connect the A32 with A4 or A4N highway to the border with Baltusia. There also are plans to build a bypass connector between A3 and A32 which would lower the route distance and time distance between Hel and Nowogard as well as construction of a new highway between Hel and Brzansk as the two cities are now connected only by A3 highway from the western side and by S9 expressway from the north. The planned highway is supposed to connect Hel and Brzansk from the eastern side which would go through the Brzansk Lesko Special Economic Zone.
Hel International Airport
Edit
Hel International Airport (Val.: Międzynarodowy Port Lotniczy w Helu, ICAO: HEL) it the third-largest airport in Valruzia and 7th largest in Seleya. The airport serves 67 million passengers annually and lies approximately 22 kilometers from the city center. The journey from the city center to the airport takes 1 hour and 20 minutes by bus, 1 hour and 5 minutes by tram, and 33 minutes by express inner-city rail. Hel International Airport is an important transportation hub for the LOT Valruzian Airlines and several of its subsidiaries, mainly Seleyana, Air Baltusia, and Artania Airlines.
Community content is available under
CC-BY-SA
unless otherwise noted.