Hel International Airport
Międzynarodowy Port Lotniczy w Helu

Summary

Airport Type
Public / Military / International
Operator
SCE Airports [[1]]
Serves
Hel, Valruzia
Secondary Hub
LOT Valruzian Airlines
Owners
Government of Valruzia (100%)
Key People
TBA
Employees
1,300
Website
www.helairport.wr

Map

Runways

24L
3,410 m - Asphalt
24R
2,990 m - Asphalt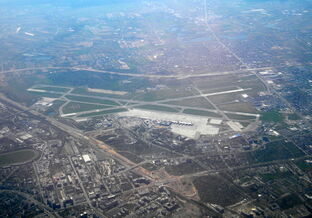 Hel International Airport (Valruzian: Międzynarodowy Port Lotniczy w Helu) (ICAO: HEL) is an international airport located 22 kilometers from the center of Hel, Chynberg Voivodeship. It is the thirf-busiest airport in Valruzia in terms of passenger and cargo traffic and 7th busiest in Seleya. Hel Airport serves as an important hub for LOT Valruzian Airlines and several of its subsidiaries Seleyana, Air Baltusia, and Artania Airlines.
The airport is located 22 kilometers from center of Hel, is located near the city of Rekowaty, Chynberg Voivodeship. The airport has two passenger terminals, and one cargo terminal, and operates with two runways. The airport is equipped to service the largest airplanes such as Reglair i4 and i7, as well as ADG A380.
Community content is available under
CC-BY-SA
unless otherwise noted.