Hobrazian (ჰობრაცურ ენაზე, Hobratsur enaze) is the native language of the Hobrazians and the official language of Hobrazia, a country in south-eastern Artania.
Hobrazian is not related to any language, although it has been hypothesized it is a part of the Rhaetan language family.
The Hobrazian language has a rich literary tradition dating back to the fifth century. Hobrazian is also the liturgical language of the Hobrazian Orthodox Church.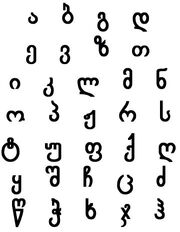 Community content is available under
CC-BY-SA
unless otherwise noted.