House of Lavièra
Head of Family
Andre I
Founded
4404
Family Palace
The Royal Tower
Nation
Cildania
Political Ideology
Federal Monarchism
Political Position
National Conservatism
Colors
Purpure a fess gules, a griffin segreant or beaked gules
Motto
Eternal and Just
The House of Lavièra was founded by the Federal Monarchist Party in Cildania (PMF). the political party was searching for a house that would make a stable foundation for a possible kingdom in the future. After searching for some time the party found Aiden Lavièra, a young man that alligned with the party's idea of a new house. The PMF proceeded with the creation of the House of Lavièra in February 4404
After the House was announced the PMF publicly stated that the House would from the moment of creation operate independently with Aiden as its head.
In March 4404 the House also registered its name in the majatran nations of Istalia, Deltaria and Selucia hinting at possible expansion of the house. However these rumours where denied by the Lavièran press office.
The Royal Tower
Edit
The seat of the House is The Royal Tower a tower in the middle of the cildanian capital of Qart Qildar. It is the symbol of the house and construction finished in late 4406. It also serves as the official "palace" of King Aiden which shows the modern touch of the house.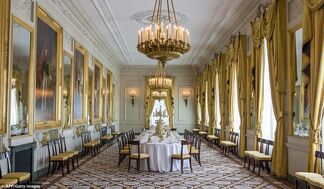 One of the rooms in the Royal Tower
Coronation of King Aiden I
Edit
In 4407 a new constitution was adopted in Cildania. In this constitution Aiden I of the house of Lavièra first of his name was crowned king of the new Federal Kingdom of Cildania. This caused the subsequent coronation of Aiden I weeks later which gave the House of Lavièra its first official monarch seated in the Royal Tower of Cildania
Baldassare I & II
Edit
In 4463 the ruling party in Temania called the Royalist People's Party installed Baldassare I as the new Emperor of the Empire of Temania. Baldassare I is a member of the House of Lavièra and lived in exile at the time. After his ascension to the throne Baldassare passed several meaningfull reforms that modernized the country and brought the Temanian people prosperity. something the population had not seen for a long time. Baldassare the 1st abdicated in favour of his son Baldassare II in 4491 who continued to govern like his father and pass reforms liberalizing the media and other parts of society.
Both emperors refused to give up their absolute hold on power in the country and have been criticized by humanitarian organizations for their dictatorial tendencies
Community content is available under
CC-BY-SA
unless otherwise noted.