Hyonggi Province (Kyo: 횽기도) is a central province of the KCCR. By land area it is the largest province in the nation. The capital and largest city is Cheonssu. To the south is Seongtaek City of Labor and Eljang Province.
Geography
[
]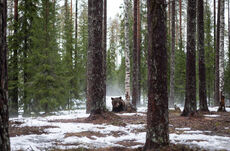 The vast majority of Myeoggi is covered by expansive forests and the most inland parts of the province are mountainous. Closer towards the coastline the landscape is more hilly with forests and farmland. Most urban areas are concentrated to the coastline though there are numerous smaller villages in the interior, often agrarian and lacking major infrastructure. A popular attraction are the plentiful Mugunghwa, or Sharon, flowers; considered a national symbol of the UCCR.
Major Cities & Towns
[
]
Economy
[
]
Agriculture and forestry are major components of the Myeoggi economy. Mining activity is common in the mountainous areas of the province and there is also hydro- and geothermal electricity production in those areas.