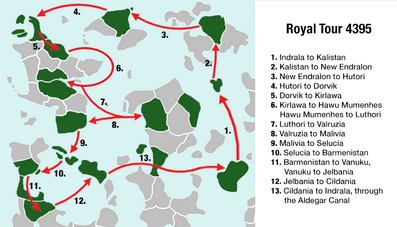 On 10 January 4394, the Tianshun Emperor mandated his grandsons, Prince Jianlong and Prince Jianhao to visit a number of foreign nations so that Indrala's "multinational relationships shall grow and strengthen"[1]
Itinerary
Edit
Background
Edit
On 1 January 4394, the Nationalist Bulletin reported that bureaucrats within the Indralan Imperial Household Agency were preparing a massive multinational tour for members of the Indralan Royal Family[3]. Nine days later, the Tianshun Emperor formally issued an edict announcing the trip[1].
Media reports from Hawu Mumenhes announced that the Nekhatw Palace was planning for the visit before the official edict had been issued[4]. According to local media, the Hawu Mumenhes government "insist[ed] that the visit should be treated as the state occasion of the year."[4] In response to the early planning on the part of the Hawu, the Tianshun Emperor sent gifts to Princess Imset, as well as the Esintsundu Imperial Family at large[5]. According to the Indralan Imperial Palace representative Yao Tiansheng, the gifts were sent as "[the Indralan Emperor was]... moved by the hospitality with which the Hawu are preparing to extend to his beloved grandsons."[5]
References
Edit