Itäsaari

Country
Trigunia
Area
457,500 km²
Highest elevation
876 m (Mount Jadevuori)
Population (3316)
39,712,886
87 people / km²
Itäsaari is an island in the east of the Trigunian Islands.
Description
[
]
Itäsaari is separated by a Chadonian Strait from the main island of Chadonia. Important towns on Itäsaari are Sebenogorsk in the north-east and Pattergrad on south.
Climate
[
]
The climate in the southern part of the moderately cold in the North - subarctic marine, moderated by a warm current, it allows for navigation all year round. Characteristic of the polar night in winter, in summer - the polar day. The average temperature of the coldest months (January-February) ranges from -8 degrees to the north of the island (the influence of warm currents) to -12-15 degrees in the central regions. In the summer, respectively, 8 degrees and 14 degrees. Frosts are possible any day of the summer, in June of frequent snowfalls. At the seaside and mountain plateaus frequent strong winds (gusts up to 55-60 m / s). Snow lies on average since the mid-late October to mid-May (in the mountains in late September-early October to early-mid June).
Relief of the island
[
]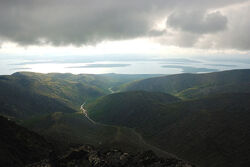 Relief the Itäsaari is a basin, terraces, mountains and plateaus. Mountain ranges of the island rises above sea level to more than 800 meters. The plains of the Itäsaari occupy marshes and numerous lakes. Reservoirs of the island and the sea washing its various rich in fish.
Administrative Structure
[
]
On the island is located East Autonomous Republic. It consists of two provinces of Kalliosaari and Milrata, separated the Arvokasalue Mountains.