Jilrit




— Principality of Cildania —

Principality Flag



Map of Jilrit
Country
Cildania
Capital
Ramesh
Government
- Prince
- Governing party
- Legislature


Cildanian Phalangist Party

Population
19,920,195 (3647)
Area
167,700 km²
Jilrit (Qildari: ילרט Yilriṭ) is a coastal province in Cildania bordered on two sides by the ocean. It is rocky and temperate and noted for it's attractive beaches and river system.
Geography
Edit
The Capital is Ramex which is also home to the world renowned University of Science and Technology The most populous and sprawling city however is Ħasrija.
Much of the region's traditional wealth came from the fishing and farming industries, in recent years however the largest employing sectors have been tourism, light engineering and new technology industries springing up around USTY.
Demographics
Edit
A relatively densely populated region. Most of its inhabitants are Qildari, and there is a significant Hebilean minority, as well as several immigrant communities especially around the capital and Ħasrija.
Culture and Sport
Edit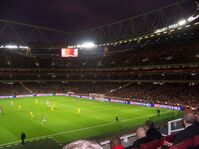 Jilrit is blessed with two of the country's top soccer teams, Ħasrija Raiders FC and Harkonan United currently first and second respectively in League A. It also boasts the largest ice hockey rink in Cildania, the Olympian Rink in Pontmawr the province's third city.
Places of Interest
Edit
Of course one reason Jilrit is known around the world is the famous (or to some infamous) Confederation of Autonomous Communities (C.A.C.) a 'social experiment' involving over 2,000,000 of the province's citizens.
Politics and Government
Edit
Subdivisions
Edit
The province is currently subdivided into 23 Urban Municipalities and Rural Districts, each with their own directly elected Mayor and Council, local elections are held every two years. The largest single Municipality is Ramex Council which covers an area of 170 sq km and a population of 2.2 Million, it is covered by 99 councillors. Ħasrija is a larger city but it is covered by three municipalities. Local councillors and mayors don't recieve a salary, they work part time and only recieve justifiable expenses.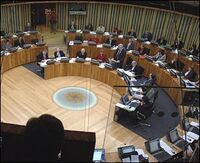 Community content is available under
CC-BY-SA
unless otherwise noted.