Kingdom of Barmenia


Malkuta d-Barma
Ml'knstat Brmestán

←


 


←


 


←


 


←



  3878-4015
  4016-4160
  4180-4204
    4220-4262  

→


 


→


 


→


 


→





            Flag                               Coat of Arms
Anthem


Roomrama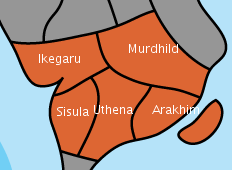 Capital

                     Eksandr
Languages

             Brmek (recognized), Kathuran (official), numerous recognized local languages.
Demonym

                Barmenian
Government

           Constitutional monarchy, Kathuran apartheid regime
King of Barmenia
First                           Sarah bat Te'oma
                                  and Eksandr I
Last                           Henry bet Nasir


Grand Vizier


First                           
Last                           
Legislature

             Meclis (Assembly)
Area

                          856,800 km²
Population

                99,761,100
Currency

                 Barmenistan (BAR)

The Kingdom of Barmenia (Kathuran: ܡܲܠܟܘܼܬ݂ܵܐ ܕܒܪܡܐ Malkuta d-Barma) was the official name of Barmenistan under the Nasir dynasty. The Kingdom was established in 3878 with the coronation of Sarah bat Te'oma, continuing the Kathuran-dominated regime of the Republic of Barmenia. The Kingdom was overthrown a number of times, but each regime replacing it was short-lived and the Nasir Dynasty was restored to the throne, until 4262, when the Kingdom was overthrown for the last time, paving the way for the establishment of the Thaller Family on the Barmenian throne.
Community content is available under
CC-BY-SA
unless otherwise noted.