Kingdom of Leucopolis


Regnum Leucopolitanum

| | | |
| --- | --- | --- |
| ← |   c. 10 - 402   | → |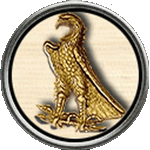 Flag                               Coat of Arms
Anthem
Capital

                     Leucopolis (Bălgrad)
Languages

             Ancient Selucian, Ancient Kalopian,
Demonym

                Leucopolitan
Government

           Monarchy


King


First                           Caesar I
Last                           Augustus II Diocles

First                           
Last                           
Legislature
Area
Population
Currency

The Kingdom of Leucopolis (Selucian: Regnum Leucopolitanum; Kalopian: Βασίλεια Λευκωπόλεως Basileia Leukopoleos) was an Enetric (Graeco-Roman) polity that ruled most of today's Ushalande. The kingdom was a successor state of the Qedarite Empire after its collapse due to the Jelbo-Tukaric migrations. The Kingdom of Leucopolis was characterized by the synthesis of Selucian and Kalopian cultures, typical of the Qedarite Empire's southern provinces and that would later characterize the Augustan Empire. The Kingdom would expand greatly under Leucopolitan King Augustus the Great, who established a large empire by his conquest of the Kingdom of Irkawa and other neighbouring polities, laying the foundations of the Augustan Empire. Today both the Augustan and Ushalandan peoples claim descent from the Kingdom's Selucian population.
Community content is available under
CC-BY-SA
unless otherwise noted.