Kostandian Bay Maritime Corporation (KBMC) is a large shipping and international trade consultancy firm based in Kostandian Bay. Despite branching out into other areas of international trade, the bulk of business done by the firm is the building of ships and the actual shipping.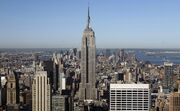 History
[
]
KBMC was founded as Wiencek Shipping Company in 3580 by then Crown Prince, Robert Wiencek. The original purpose of the company was to be the main Zardic Navy contractor to provide ships and logistics support when Zardic Defense Industries shifted from a general military company to one more specialized for producing army and air force equipment.
In 3600 after the fall of the House of Wiencek from Royal power, the company went public and changed its name to Kostandian Bay Maritime Corporation. Subsquently the company began to diversify its business interests into maritime consulting, sea based security services, international business and trade consulting along with a small market for insurance (but this is limited to Zardic registered vessels).
In 4189, a deal between KMBC and Kazulian state-owned Defence company, Asvald Gruppen was made for the Kazulian corporation to acquire 49% of the company's shares, with the Government of the Federation of Zardugal holding the remaining 51%.
Subsidiaries
[
]
KBMC is broken up into a series of different subsidiary companies in the different nations it is active in.
Mahtahbi Dockyard and Shipping Corporation
The Aldegarian branch of KBMC, focusing on maritime security, ship building and building international links to Aldegarian markets. Has several notable defense contracts with the Navy and Aldegarian Defense Industries.
It was the Istalian branch of KMBC responsible for managing corporate intersts in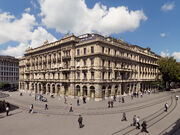 the country. This branch owned for long time dockyards in Genevia ed Triesta but then, in the last years of activity, the UMG reduced the construction activity in Istalia in favor of services dedicated to the maritime security consulting, international business consulting and defense consulting, talking mainly with the Istalian Navy. Since the begin of 41st century the istalian campany Leonardi Industrial Group started before a cooperation with the Kostandian puschaising part of the shares of UMG and then, in the second half of the century, reached to size all the company which was absorbed by the new growing istalian company.