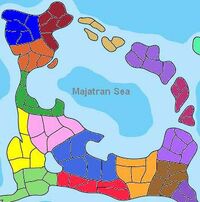 The Majatran Sea is a marginal sea of the South Ocean. It borders almost all nations within the continent of Majatra, which it derives its name from. Although it does not have a natural border with any other body of water, the Grand Canal in Vanuku connects it to the Red Bass Ocean.
Etymology
[
]
The various names given to the Majatran Sea can be seen in the table below.
Geography
[
]
The Majatran Sea is surrounded by the Majatran archipelago and mainland. As a result, almost all Majatran nations have coastline which borders the sea. Specifically: Pontesi, Selucia, Cildania, Al'Badara, Kafuristan, Kalopia, Deltaria, Jelbania, Vanuku and Barmenistan.