There are five main administrative districts of Beiteynu each known as a Mehoz.
Greater Beiteynu Mehozot
Edit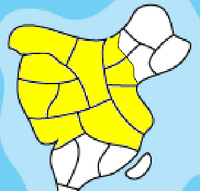 Under the idea of a Greater Beiteynu the whole of the Promised Land would be taken under Jewish control as such creating further Mehozot. Supporters of this policy refer to Mehoz HaDarom (Southern District: Modern day Barmenistani regions of Ikegaru and Murdhild), Mehoz HaTzafon (Northern District: Part of the modern day Pontesian regions of Xanduley and Abure) and Havot Dandrael (Dandrael Farms: Modern day Pontesian region of Dandratur). The only time during Beiteynuese history when all such Mehozot were under Jewish control was the First Jewish Homeland.
Beiteynu
History: Semitic Migrations, World Jewish Council, World Jewish Congress, Free Beiteynu! Organisation, Snakes On A Plane | Politics: List of Heads of State, For the Homeland, Flag of Beiteynu | Demographics: Ebionite Church, Jews, Jewish Communities of the World Alliance, Pnték, Jewish Homeland Code (JHC), Terran Union for Schultzism
Political Factions
Political Organizations: National Military Organization | Political Parties: Herut (חרות), Haaretz | Former Parties: Christian Zionist Party, Democratic Socialist Party of Beiteynu, SPIDER PIG REPUBLIC
Economy
Economic Coalitions: Christian Zionist Party and The W-K-R-A Company
People
Ishmael I, David I, Franklin Delanovitz Rooseveltstein, Meshullam Yakov Iser Doron Eleazar
Geography
Mehozot: Padrilka, Fruskila, Kokun, Endild, Tadraki | Other Areas: Jeztadraki | Migrant's Pass | Second Jewish People's Republic of Beiteynu
Featured Articles
History of Beiteynu, Migrant's Pass | Formerly Featured: Free Beiteynu! Organisation
Community content is available under
CC-BY-SA
unless otherwise noted.