Mordus Castle is the Imperial Palace of Mordusia. It serves as the official residence of the Mordusian Emperor. The Castle also serves as the northern city limits for Rechtenburg, the capital of Mordusia.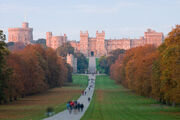 Foundation
Edit
Mordus Castle was originally a small stone fort built by Emperor Mordus in 535 A.D. when he gained control of the area surrounding what would become Rechtenburg. The fort was always manned by military personnel, even after Mordusia fragmented in the 9th century A.D.
When Talasor gained autonomy in the 10th century its primary military fortress would be Mordus Castle. A city, later to be Rechtenburg, began to develop near the Castle and grew due to off duty military personnel. The Castle continued to grow through the years and became the home of many wealthy members of the aristocracy. Additions were made until, in 1658, the Castle reached its current size. The Castle would continue to prosper until the Talasor Revolt of 1869.
Destruction
Edit
In the Talasor Revolt of 1869 the revolutionaries, many of whom were communists, saw the Castle as a symbol of the local aristocracy's power. At the height of the revolt citizens stormed the Castle and began to loot and pillage everything on the premises. The sacking left the Castle a smoldering ruin not fit for habitation. Eventually the Castle would again hold military troops but would not reach the level of grandeur it once had until the restoration by the Sayon-Mordus dynasty regained the throne of Mordusia in the 28th century A.D.
Restoration
Edit
Upon regaining the throne of Mordusia in 2790, the House of Sayon-Mordus, now part of the House of Orange-Villayn, began to restore Mordus Castle to its former glory.
Current Status
Edit
Mordus Castle is now the center of politics in Mordusia and the spiritual center of Mordusia. It is the official residence of the Archbishop of Mordusia, if they choose to reside there. It also serves as the residence of the High Priest when the Archbishop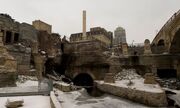 is away. The Mordusian Crown Jewels and the Royal Art Collection are also on display in the Castle. There is always a small contingent of military personnel on the Castle grounds but they serve a mostly ceremonial role used in state ceremonies or for day-to-day security of the Castle.
Community content is available under
CC-BY-SA
unless otherwise noted.