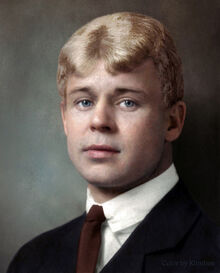 Count Mstislav IV Pavlovich
15th Count of Pavlovia

Coronation

November 12, 4102
Predecessor
Mstislav III
Successor
Countess Karina I Diana Pavlova
Born
July 19, 4079
Karpalosaari, Trigunia
Died
July 5, 4141
Trigunia
Spouse
Countess Elisabet Pavlovna (née Djorik)
Issue
Countess Kostina I Diana Pavlovna (b.4105) Baron Roshchin Eduard Pavlovich (b.4107, d. 4108)

Full name
Mstislav Nikodim Pavlovich

House
Pavlovich
Father
Mstislav III Pavlovich
Mother
Veselova Inna Pavlovna
Religion
Athiest
Count Mstislav IV Pavlovich (born Mstislav Nikodem Pavlova on July 19, 4079) was heir of the wealthy noble family of Pavlovich. He inherited all his father's money and wealth along with the title Baron Pavlova when his father died on November 9, 4102, and was crowned 3 days later on November 12, 4102. He Joined the Natsional'naya Rabochaya Partiya as a political activist in July, 4135, originally assuming the position of Minority Chancellor. In 4137 he was elected People's Chancellor, and under his regime the ideologies of the Labor sub-party he represented shifted from the working class to the elites, with him wishing to preserve the nobility and wealth. A disgruntled political activist of the Old Labor party approached him on July 3, 4141 and shot him several times, with him being pronounced dead two days later on July 5, 4141. His death caused a schism in his party that lost it the title of People's Chancellor and any real hope of one day seizing control of the party as a whole. His legacy is controversial, but most agree he was more detrimental than constructive to the Labor party.
Outdated Template In Use!
Please note that the template that you are using is outdated. This may cause issues with the template, the page and the wider Particracy Wiki! Please the current list of supported and up to date templates located here: Templates Manual of Style. If you need assistance please contact Wiki Administrators Jamescfm or Auditorii via the in-game forums or Discord.
Mstislav Pavlovich

---

2nd People's Chancellor of the Natsional'naya Rabochaya Partiya

In office
November, 4137 – July, 4141

Serving with

Agnessa Borisova Radmila Yanovna Uvarova

Preceded by

Lesya Yemelyanovna

Constituency

Karpalosaari

---

1st Minority Chancellor of the Natsional'naya Rabochaya Partiya

In office
June, 4135 – November, 4137

Serving with

Alexei Romanovich, Lesya Yemelyanovna

Preceded by

None

Succeeded by

Radmila Yanovna Uvarova

---

Born

July 19, 4079

Karpalosaari, Trigunia

Died

July 5, 4141

Trigunia

Political party

Labor (Natsional'naya Rabochaya Partiya

Spouse

Elisabet Pavlovna (née Djorik)

Children

Baroness Kostina Diana Pavlovna (b.4105) Baron Roshchin Eduard Pavlovich (b.4107, d. 4108)

Occupation

Minority Chancellor

Religion

Lutheran

Ethnicity

Trigunian