Muhandae Group
무한대그룹
Type
Chaebol
Industry
Conglomerate
Founded
3420
Founder
Park Seong
Headquarters
Gongmangdo, Dankuk
Area served
Dovani
Products
Automobiles, consumer electronics, information technology, medical equipment, ships, telecommunications equipment
Services
Advertising, construction, entertainment, financial services, hospitality, information and communications technology, retail
Subsidiaries
Muhandae Construction, Muhandae Electronics, Muhandae Heavy Industries, Muhandae Motors, Muhandae Telecom
Wesbite
www.muhandae.dr
Muhandae Group (Kyo: 무한대그룹) is a multinational conglomerate company headquartered in Gongmangdo, Dankuk. The corporation has five primary subsidiary businesses and it is the second largest chaebol (family-owned business conglomerate) in Dankuk.
Operations
Edit
The Muhandae Group is composed a numerous companies across a highly diversified range of business activities. There are five primary companies that make up the majority of Muhandae operations.
Muhandae Construction
Edit
Muhandae Construction is a prominent construction and civil engineering company that has built numerous urban residential complexes and commercial offices in
Dankuk
. The company was an early developer in the expansion of
Seongtaek
in the 3600s and it constructed
Muhandae World Tower
in 3645, a 108-floor mixed-use skyscraper that includes a luxury hotel, observation deck, and shopping mall.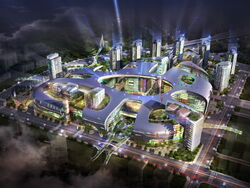 The company was also majorly involved in the construction of Seongtaek International Airport in 3640. Muhandae was the primary developer of the Dome City located in Seongtaek, which was completed in 3899. The Dome City is a massive mix-used site and shopping hub, featuring theatres, department stores, hotels, and galleries, among many other establishments.
Muhandae Electronics
Edit
Muhandae Electronics is one of the major consumer electronics companies of Dankuk. It primarily manufactures televisions, computers, and mobile devices, as well as home appliances. Muhandae Electronics directly competes with Haedodi Corporation's consumer electronics subsidiary. While Muhandae is surpassed by Haedodi in the smartphone market, Muhandae is leads the market for televisions and computers.
Muhandae Heavy Industries
Edit
Muhandae Heavy Industries is one of the leading shipbuilding companies of Dovani. Besides shipbuilding, the company is also active in manufacturing construction equipment, engines and machinery, and electric systems. The company is Dankuk's leading manufacturer of green energy products, such as wind turbines and geothermal pumps.
Muhandae Motors
Edit
Muhandae Motors is the largest automotive company in Dankuk. The company produces a variety of automobiles, ranging from sedans and SUVs to commercial-use trucks and buses.
Muhandae Telecom
Edit
Muhandae Telecom is a one of the top telecommunications companies, providing integrated wired and wireless telecommunications services, as well as high-speed internet services. In addition to its telecommunication service offerings, the company owns a number of online brands, including the nations largest web portal/search engine, a mobile multimedia service, and an e-banking mobile application.
Community content is available under
CC-BY-SA
unless otherwise noted.