NTI - Nuovo Trasporto Istaliano

Type
Join-Stock Company
Traded as
RISE: NTI
Founded
4119
Industry
Rail Transport
Products
Rail Transport, Cargo Transit, Services
Slogan
With us, travel is a whole new pleasure
Key People
Nizam Zamora (Chairman and CEO)
Destinations
Istalia
Several majatran nations
Employees
69.600
Website
www.nti.ist
NTI - Nuovo Trasporto Istaliano S.p.A. (Luthorian: New Istalian Transport) is an Istalian railway operator activy in the domestic market and abroad among Majatra. NTI is the largest train operating company of the Country, assuring also the majority of the international connections with the other Majatran nations.
The company doesn't operate only as TOC from and to Istalia, but provides connections also from and to third nations.
In fact, due to the creation and promotion by part of Istalia of the Trans-Majatran Corridors Network and due to the success which had the treaty, Istalian companies were able to expand also in many other markets on the continent where, however, the local companies continue to maintain the role of major operators.
Its main competitor in Istalia, instead, is the second largest TOC on the Istalian market, Alaria Trasporti Integrati, which railways division dominates on the Island. Since the half of 44th century, however, NTI saw its dominant role on the Peninsula challenged by a new company, Ferrovie Sarrentine, born as Padagnan regional TOC with the name Ferrovie Padagnole and then landed on the national market.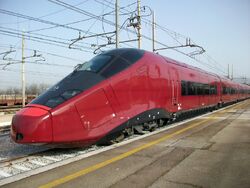 Community content is available under
CC-BY-SA
unless otherwise noted.