The
New Patriarchal Integralist Party
(Syldavian:
Új Katolikus Integrált Párt
) is a
Hosian fundamentalist
political party in the
Directorial Republic of Endralon
. It believes in the integration of the state into the Church. Furthermore, integralism argues the Church should be the basis of public law and public policy within civil society, wherever the preponderance of Catholics within that society makes this possible. The party favours broad decentralization and national syndicalism.
The party was founded nearly a decade after the fall of the monarchy, by a coalition of monarchist and elements from within the Church. One of the key founders was Archbishop Péter Erdő, who late came to be the third president of the republic, and was a powerful voice in the nation until the Monarchist Compromise of 4755. This compromise restructured the party away from monarchism. The party now function as the political wing of the Church in Endralon. Father István Balogh led the party into this era of its history.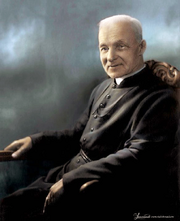 Community content is available under
CC-BY-SA
unless otherwise noted.