Pavlo I

Emperor and Autocrat of Trigunia

Imperator i Samoderzhets Vsetrigunĭskiĭ

Biography

Father
Petrovič I
Mother
Anne
Spouse
Maria
Issue
Titles and Styles
Date of Birth
Date of Death
Imperial Dynasty
House of Doroshenko
His Imperial Majesty, Pavlo I, By the Grace of God, Emperor and Autocrat of Trigunia is the current Emperor of Trigunia, informally known as the Tsar of Trigunia. Pavlo became Emperor on January 3030 after his father, Petrovič I abdicated the throne.
Early Life
[
]
Reforms
[
]
Upon becoming Emperor, Pavlo changed many aspects of the relationship between the Emperor and the government. His first changes can be seen upon his coronation when he elected to perform an oath guaranteeing "national unity and the independence of the state." This can be seen as Trigunia's first step towards a constitutional monarchy as opposed to an absolute rule. Pavlo is seen as a more liberal ruler than his father who has been often described as an reactionary.
Ancestry
[
]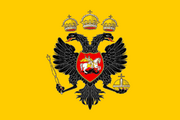 Template:Ahnentafel-compact5