People's Republic of Barmenia


Brmék Hikoék Rekvakns

| | | |
| --- | --- | --- |
| ← |   4015-4016   | → |


            Flag                               Coat of Arms
Anthem


March On, Barmenistan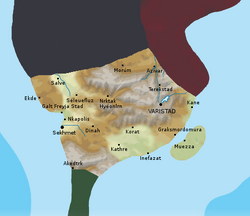 Capital
Eksandr
Languages

             Brmék, Kathuran language, Selucian
Demonym

                Barmenian
Government

           Socialist republic, military dictatorship


President of the People's Republic of Barmenia


First                           Ám'ád Slejmansrmko Nasiv
Last                           


Grand Vizier


First                           
Last                           
Legislature

             People's Assembly
Area

                          856,800 km²
Population

                 99,761,100
Currency

                 Barmenistan (BAR)

The People's Republic of Barmenia (Brmék: برمیك حقویك ركفاكنس Brmék Hikoék Rekvakns) was the name of a short-lived socialist regime that ruled Barmenistan between 4015 and 4016, briefly interrupting the Nasir-ruled Kingdom of Barmenia. In 4012, during the Great Terran War, a number of violent anti-Nasir protests were initiated, mostly affiliated with pan-Jelbism and leftist ideologies. The protests received the support of a number of low-ranking officers in the armed forces known as the Young Officers, who in May 4015 launched a coup and installed the People's Republic of Barmenia. A year later however a royal counter-coup succeeded and restored the Nasir regime, while the "People's Republic" continued to exercise control over Murdhild. The Kingdom would be reunified in 4034, after a few years of Nasir-sponsored Abadi and Halawi rebellions crippled the breakaway republic.
Community content is available under
CC-BY-SA
unless otherwise noted.