Pesançon
A view of Pesançon from the air.
Région
Zanyal
Country
Kanjor
Area
-City:
-Metropolitan Area:
km²
Population
-City:
-Density:
people/km²
-Metro:
-Density:
people/km²
Pesançon is the largest city in Kanjor, with a metropolitan area exceeding 5 million residents. It is one of the older cities of Kanjor having been founded in the ninth century BC. It's role as a key city has not diminished, and and native Pesançonois see it as the the most important city in Kanjor, second only to Atyr.
Geography
Edit
It is situated on the floodplain of the Kanjorgne River, though the river is now restricted and dams further up stream have changed it from once mighty river, and near the head of Munodi Bay. As the city grew, development extended into the hills behind. To the north of Pesançon are a range of small mountains and the 1011 meter Mont Sainte-Victoire, that rise behind to provide a watershed that has allowed Pesançon to avoid severe water restrictions as they city has expanded.
Over the hills to the north-west, lies the new districts of the city, as well as the airport, which have boomed recently as space and house prices in the rest of the city have made housing more difficult to obtain.
The New Town is situated on the small bulge next to the docks, and is one of the most expensive and sought-after areas in all Kanjor. Most of New Town's buildings are of the most impressive and modern styles of architecture.
The Docklands make up the area directly behind the docks, and are home to most of Kanjor's economic life. On the Old Town side is the central business area, where many businesses have their offices, and modern skyscrapers rise up. This has caused much controversy from residents higher in the valley, whose sea-view is blocked.
The Central Districts make up the remainder of the city, stretching out into the hills behind the city.
The climate of Pesançon is much like that of the rest of central Kanjor, with with mild, humid winters and hot, dry summers. Temperatures during winter only occasionally reach freezing and snow only rarely occurs at sea level, but often in surrounding mountains due to wet conditions.
Pesançon (known in ancient times as Pesancchus) was officialy founded by Richard I of Zanyal in 833 BC as the new capital (replacing Afar), though it had existed since 836 BC as a supply base for the invasion of Zanyal, being the landing site for the invasion fleet. It was the capital and main city of the Kingdom of Zanyal and Tondola, the predecessor of Kanjor, from 833 until 753. From then on, it became the second city of Kanjor, a role it has retained ever since. Over the next centuries, it develops a strong cultural and economic influence on Kanjor, splitting from Kanjo in 680 AD to become the strongest city-state in the region, with the name Helion.
After 200 years of independence, Pesançon reluctantly joins the new Empire, but as the Empire descends into civil war, Helion once more became independent, and fights bitterly to resist the Armies of God. It is in Helion that the Council of Acolytes reforms, and the Council uses Helion to fight back the Exarch. By 1220, the Council had taken back Kanjo, and a last-ditch attempt by the Exarch and the Army of God to take the city back failed.
However, once more Pesancchus' goal at becoming the most powerful city failed, as the Council returned to Kanjo to head the new government. Pesancchus once more became the second city of Kanjor and was subsequently renamed Pesançon, but remained as the major port of Kanjor for the next 700 years.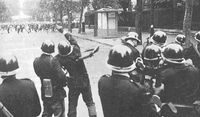 In 1956, with the dissolution of the Empire of Kanjor, and the flight of the House of Valerian to Vagderra, Pesançon formed one of the key parts of the Republic of Kanjor and Tondola, but stability was wishful thinking, as various groups tried to control the city. For the entire Interregnum, Pesançon was officially part of the Republic, but on the street, it would hardly seem so. Royalist, communist, fascist, and independence groups all waged a mini-civil war in the suburbs and downtown regions.
Government
Edit

Pesançon has a 18-member council; 17 members are elected from districts, and the 18th, the Mayor, is elected by a run-off vote.
The breakdown of the election results often correspond to the socio-economic makeup of the districts.
Pesançon because of its size and location is probably the most cosmopolitan mainland city in Kanjor.
Landmarks
Edit
Arena of Pesançon
Cathedral of Sainte-Louis
Pesançon Airforce Base
Université de la Ville du Pesançon
Studio Pesançonnois
It has a vibrant and diverse economy, ranging from aero-space industries and computing through to heavy and light industry. It is also the service centre for the surrounding agricultural area.
home to Studio Pesançonnois which makes roughly a dozen films a year
United States of Kanjor & La Tondelle
États-Unis de Kanjor et La Tondelle
Atyr (capital)
History
• History of Kanjor • Monarchs of Kanjor • House of Audierne
• Medieval States of the Mainland • Medieval States of the Isle of la Tondelle • Archbishopric of Kanjo
• Holy Wars of Kanjor • Inquisition of Kanjor
• Wars of the Isle • Siege of Afar • Battle of Atyr
• War of the Kanjorien Succession • Second War of the Kanjorien Succession • Battle of Crying • Battle of the Kanjorgne • First Battle of Oix • Second Battle of Oix • Third Battle of Oix • Battle of Vavalya • Siege of Kanjo • Battle of the Bay • Battle of the Channel • Battle of Bessonne • Confederation of the Isle • Soldats de la Croix Vraie • Republique Populaire de Silliers-Nord • Les Travailleurs et les Paysans République Socialiste d'Oléri-des-Grâces • National Anthems of Kanjor • Flags of Kanjor • People's Commission • The Communist MalaiseUnion Canrillaişe
Geography
Geography of Kanjor • Numineux Valley • Silliers Channel

Mainland (Parishes):
- Martois: Parishes of Martois
Major Cities (Small Cities): Soulon, Saint-Claire, Nasbourg, Foulouse

- Oléri-des-Grâces: Parishes of Oléri-des-Grâces
Major Cities (Small Cities): Narseille, Calais, La Gochelle, Lambéry

- Numineux: Parishes of Numineux
Major Cities (Small Cities): Kanjo, Pesançon, Cimoges, Voubaix

Isle of la Tondelle (Parishes):
- Silliers: Parishes of Silliers
Major Cities (Small Cities): Atyr, Afar, Bayonville, Loitiers, Risère

- La Tondelle: Parishes of La Tondelle
Major Cities (Small Cities): Deims, Belfort, Famiens, Jaligny-sur-Nesbre, Trest


Demographics
Demographics of Kanjor • Canrillaişe (ethnicity) • Theognosian Church • Ville de Saints • Patriarchal Church (Eastern Rite) • Theognosian Church of Kanjor
Government
• Government of Kanjor
• Executive of Kanjor (List of Executives of Kanjor, Cabinet History)
• Legislature of Kanjor (Parties, Minor Parties, Electoral History of Kanjor)
• Monarchs of Kanjor (House of Villiers, House of Orléans-Vasser)
Economy
Economy of Kanjor • National Chamber of Commerce • National Holding Corporation • Pesançon Mercantile Exchange • Voubaix Stock Exchange • Arsenal Preud'homme • ERAK Industrial Group • ERAK Automotive • ERAK Machinery • ERAK Transportation • FME Energy • Kanjor Aeronautics • League of Landowners and Farmers • RNIT • Institut de Willigan de Science économique
People
Royals: (King Léopold I, Regent Alexandre, Queen Louise-Elisabeth, King Albert III, Princess Marie Louise-Elisabeth, King Frederick I, King Frederick II, Prince Charles, Queen Sophie I, Princess Rachel, Prince Constantine, Princess Emmanuelle, Princess Judith, Prince Leopold Frederick, Princess Audrey, HRH Queen Louise-Elisabeth II, HRH Queen Louise-Elisabeth III, HRH Queen Noëlle, King Abelard I

Politicians: Franklin Rothschild (LP), Marius Léonide Nove (UHD), Camille Daladier (PRT), François Gualladet (UR), Olivier Besancenot (PPPP), Pierre Etienne (PPPP), Zéphyrine Renard (PPPP, Wesley Freisler (NCP), Gerald Price (NCP), Hans Relander (NCP), Karl Pelmenin (NCP), Peter Mannerheim (NCP), Eglantine Vadnais (PL)

Personalities: (Faruq Depois, Loïc Jauffret


Culture
Culture of Kanjor • Education in Kanjor • Académie Royale de l'Île de la Tondelle • Sport in Kanjor • Betrandism • National Cathedral of Kanjor
Military
Military of Kanjor • Kanjorien Army • Kanjorien Navy • Kanjorien Air Force (Defunct) • National Gendarmerie • Internal Security Directory
Project Kanjor
Project Kanjor
Community content is available under
CC-BY-SA
unless otherwise noted.