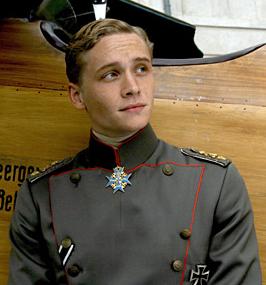 HRH (Prince Gustavus) The 3rd Duke of Utagia (b 2541-2624) succeeded his grandfather, Prince Carolus, 1st Duke of Utagia as Minister of Defence in the Empire. He is, as his grandfather, a well-known politician for the Royal Aristocratic Party.
Married to Tilda, Duchess of Utagia (born von Lewenheusen).
Gen HRH Prince Gustavus is also a General in the Army as well as an Air Marshal and chief of the Royal Air Force. He and his honourable family lives in Adlerberg Castle where the family also have their own airfields and hangars.
The Prince did very well in the Loyalist Offensive as well as in the 2nd Loyalist Offensive from Fort William in the War of Luthori Succession. In the battle of Sandulka, the Prince was the commander of all air units in the battle. Oalapo´s seven mayors did give the formal surrender of the city to Prince Gustavus 18th of March 2564.
When the RAP were reformed in the 2570s he remained loyal to his political profile - Erich von Lewenheusen. He is current one of the most powerful men in the nation while he have the entire Air Force and almost a whole party under his feet.
Titles and styles
Edit

The Holy Luthori Empire
:
Titles

Prince of the Holy Luthori Empire (2541–2624)
3rd Duke of Utagia (2559–2624)

Styles

His Royal Highness (2541–2624)

Primary form of address

His Royal Highness Prince Gustavus of Utagia (2541–2559)
His Royal Highness The Duke of Utagia (2559–2624)

Darnussia
:
Titles

Duke of Kozaria
Earl of Doressa
Community content is available under
CC-BY-SA
unless otherwise noted.