Qedarite Kingdom of Barmenia


Qedaraya Malkuta d-Barma

| | | |
| --- | --- | --- |
| ← |   4160-4180   | → |


            Flag                               Coat of Arms
Anthem


March On, Barmenistan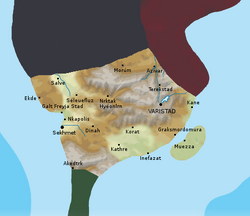 Capital
Eksandr
Languages

             Kathuran (official), Brmék, Selucian
Demonym

                Barmenian
Government

           Constitutional Monarchy
King of Barmenia
First                           Constantine II
Last                           


President of Barmenia


First                           Khammo Qasyounan
Last                           
Legislature

             Assembly
Area

                          856,800 km²
Population

                 99,761,100
Currency

                 Barmenistan (BAR)

The Qedarite Kingdom of Barmenia (Kathuran: ܩܝܕܪܝܐ ܡܲܠܟܘܼܬ݂ܵܐ ܕܒܪܡܐ Qedaraya Malkuta d-Barma) was a Kathuran nationalist regime ruling Barmenistan for two decades between 4160 and 4180. The Qedarite Kingdom was partly established in opposition to the Nasir-ruled Kingdom of Barmenia as a result of a resurgence of Pan-Qedarism (OOC: Pan-Semitism) and Phalangism, coalescing under the Socialist Phalanx Party, a far-right organization opposed to both monarchy and Felinism. Riding on a wave of popular discontent with aristocratic rule, high unemployment, and Jelbic immigration from Beiteynu and Pontesi, the Phalangite party gained an almost constitutional majority in the 4160 elections, and its leader, Khammo Qasyounan, was victorious in the head of state election. Although King Constantine II was initially reluctant to appoint an SPP cabinet, the threat of violence posed by a large organized march on the capital forced the King to enter negotiations with Qasyounan and form a power-sharing agreement. A draft constitution was presented, according to which the King would keep his throne, while Qasyounan would be recognized as the "President" of the "Qedarite Kingdom of Barmenia". But due to the Phalangist party's introduction of a number of discriminatory policies aimed at Jelbic-speakers and Felinists, Khammo Qasyounan was overthrown and executed by forces loyal to the monarchy, sparking a brief but violent insurrection led by the Hawks of the Whirlwind, the paramilitary branch of the Socialist Phalanx Party. Although the rebellion was swiftly defeated, the Hawks reportedly relocated to Beiteynu, from where they would continue to conduct guerilla operations against the Kingdom for years. The brief Qedarite regime and its violent methods did leave one lasting impact on Barmenian culture, namely a convergence of interests between Felinists and Ahmadi Jelbics, who had come to realize that joining forces would be the only way to end their discrimination. Additionally it was also under the Qedarite Kingdom that the Surname Law was passed, initiated as an anti-Jelbic measure. The Surname Law officially banned patronymics and clan names, leading to the adoption of a surname system by Barmenian Jelbics that, in spite of its discriminatory origin, continues to this day.
Community content is available under
CC-BY-SA
unless otherwise noted.