Republic of Barmenia


Brmék Rekvakns

| | | |
| --- | --- | --- |
| ← |   3869 - 3878   | → |

             none

            Flag                               Coat of Arms
Anthem


"Advance Barmenians Fair "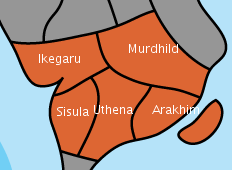 Capital

                     Akedtrk
Languages

             Brmek (recognized), Kathuran (official), numerous recognized local languages.
Demonym

                Barmenian
Government

           Presidential republic, Kathuran apartheid regime


President


First                           D'yaequob Eabaa
Last                           

First                           
Last                           
Legislature

             Meclis (Assembly)
Area

                          856,800 km²
Population

                99,335,322
Currency

                 Barmenistan (BAR)

The Republic of Barmenia (Brmek: Brmék Rekvakns) was a political entity that ruled Barmenistan during the interim nine years between the Ahmadi Republic (Brmék Ám'ádsrlji Rekvakns) and the Kingdom of Barmenia (Brmék Mlk'nstat).
With the collapse of the leading party of the Ahmadi Republic in mid November 3869, Kathuran activists seized control of the capital in what was widely seen as a sympathetic coup on the part of a minority coalition, lead by orator, barrister, rhetorician, and political leader D'yaequob Eabaa. The coalition, led by Eabaa and his interim council, arrested all ninety members of the Supreme Assembly within three weeks of the collapse, choosing to instead appoint sympathetic members from within an array of select minority groups under the umbrella of the wider population which had risen in opposition to the Ahmadi government. Once properly seated, the Assembly (having stripped the Ahmadist styled 'supreme' from its prefix) enacted the Barmenian National Sovereignty Act of 3869 and the Elimination of Theocratic Rule Act. Together, these two pieces of legislation effectively nullified the entirety of the Ahmadi Republic; its existance was no longer even a mention in the Brmek vocabulary. The only word ever spoken was of the 'second interim'. Meanwhile, Eabaa and his government pressed at the national, regional, and even local levels to create what is now recalled as a state of mass incarceration which would ensure the detainment of much of the Ahmadi population via practices ranging from administrative detention under the auspice of constitutional preservation to discrimnatory practices and even extrajudicial execution within the confines of detainment. In addition, due to other conditions created by legislation passed by both the government of the time and passed minority governments, millions of other Ahmadi would continue to suffer in a destitude; this trend is largely agreed to have begun between the passage of ETRA and continued through a significant portion of the first half of the reign of Queen Sarah.
Community content is available under
CC-BY-SA
unless otherwise noted.