Selucian League


Foedus Selucianum

| | | |
| --- | --- | --- |
| ← |   334 BCE - 280 BCE   | → |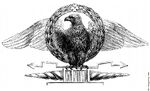 Flag                               Coat of Arms
Anthem
Capital

                     Auroria (unofficial),
Assedo (meeting place)
Languages
Ancient Selucian
Demonym

                Selucian
Government

           Republican Confederacy


Imperator


First                           
Last                           

First                           
Last                           
Legislature

             Selucian assembly
Area
Population
Currency

                 Sestertius

The Selucian League (Selucian: Foedus Selucianum) was a confederation of Selucian city states during Classical Antiquity. The League was formed during the Selucian-Cildanian Wars in order to provide a unified defence of Selucia against the Qedarite Empire. The Selucian League continued to exist until it was conquered by Qedar and the Selucian archipelago became the Cildanian province of Selucia.
Community content is available under
CC-BY-SA
unless otherwise noted.