f
The Senate of the Republic of Valruzia was the higer chamber of the Valruzian parliament. It consisted of 100 Senators elected every four years. Next to Sejm is was one of two chambers of the parliament of the Republic of Valruzia. It was established together with Sejm by virtue of the Grand Consitutional Reform in 4244. As the lower chamber of the parliament, it was located in the country's capital - Nowogard. Builings of Sejm and Senate are located in the same complex. The Marshall of the Senate presided over the works of the Senate. He or she was elected during the first session of the Senate after the election. In 4358 Valruzian Constitutional Referendum on Abolishment of the Senate it was abolished and its work discontinued or put under the jurisdiction of the Senate. After the referendum mandates of all 100 Senator has been voided and Senators have been granted a compensation of 150 thousand pesos for the remainder of their mandate.
According to the Article 5, paragraph 4, sections from 'a' to 'c' say that the Senate was a consultative body and was only established to discuss the policies with no influence on them. The Senate could only direct questions to the Sejm and introduce solutions which could amend the laws but it is the Sejm that can amend the law because out of two chambers of the parliament the Sejm is the only one with the legislative initiative. If it was necessary for the State's interests, Sejm and Senate could convene jointly as a general session of the National Assembly of the Republic of Valruzia. The session was presided over jointly by Marshalls of Sejm and Senate.
Functioning
Edit
The term of the senator's mandate lasted four years. As mentioned above, Senat had no legislative initiative and could not amend laws passed by the Sejm or the Government. It could, however, propose its amendments to the Sejm which were not binding and could be dismissed by the Sejm with a simple majority.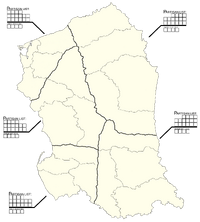 By virtue of the Constitution, the Senate was elected in a similar way as the Sejm, which led to accusations that the Senate was not representative enough and was just a copy of the lower chamber. Senate has been nicknamed the "Chamber of Reflection and Contemplation" due to the marginal role of the Senate. Party of National Coalition proposed a comprehensive reform of election to the Senate. In November 4329 the reform was enacted by the Sejm which modified the way Senators are elected, the reform introduced a dual system of the partisan list and single member constituencies. 16 Senators from each Voivodeship were elected according to a fixed key and 4 were elected in a single member constituencies.
Community content is available under
CC-BY-SA
unless otherwise noted.