Outdated Template In Use!
Please note that the template that you are using is outdated. This may cause issues with the template, the page and the wider Particracy Wiki! Please the current list of supported and up to date templates located here: Templates Manual of Style. If you need assistance please contact Wiki Administrators Jamescfm or Auditorii via the in-game forums or Discord.
Spencer Wellesley



---

Grand Duke of Keymon

In office
May 2825 – Present

---

Pretender to the Ducal Throne

In office
August 2808 – May 2825

---

Born

June 2782

Residence

Keymon City

Occupation

Monarchist

Spencer Wellesley is the Grand Duke of Keymon. He descends from Bryce Leigh VIII and his family has claimed the Ducal Throne since the Rebellion of 2655, when Gui Leigh was overthrown to form a Republic. Wellesley inherited the family's disputed claim to the title Prince of Maddog and Earl of Karzon when his father passed away. In 2825, the Ducal Throne was restored and he was sworn-in as the 19th Grand Duke of Keymon.
Adolescence
[
]
Wellesley was born to an affluent family with strong political connections in Keymon and Dolgaria. Because he was the heir apparent to the family's legacy and disputed claim to the Ducal Throne, Wellesley's childhood was very protected. He was tutored by his father, Robert Wellesley, until he enrolled in a public college to read political science and philosophy in 2801. Wellesley graduated with two master's degrees in seven years and decided on a career in public service. When his father died in 2808, he inherited the disputed claims and returned home to assume the role of family patriarch. Wellesley took a strong interest in charity and managed several national poverty movements from 2813 to 2821.
Prominence
[
]
There was an unexpected move to aristocratic rule in 2824 and while his family became political, Wellesley was careful to maintain his independence. He selected his uncle, John Wellesley, to represent the family in the Council of Nobles. The Urrutius Family came to support his claim and Wellesley was declared Grand Duke of Keymon and Prince Regent of Maddog in May. He became the first Grand Duke in more than 230 years.
Grand Duke
[
]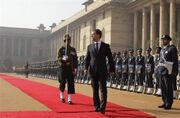 Wellesley was granted the title His Royal Highness by the Noble Council in 2825. Immediately, he appointed Flavius Urrutius III to the Ducal Court as the
1st Viscount Urrutius in a historic move to reconcile the family tensions in Keymon.







Forms of Address
[
]
2825 – 2825: His Royal Highness Spencer, Grand Duke of Keymon, Prince Regent of Maddog and 1st Duke Wellesley
2782 – 2824: Spencer Wellesley




Preceeded by
None

1st Duke Wellesley



Succeeded by
Incumbent