Tokundian Empire


Цѣсарьство Токѹндьско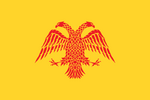 Flag                               Coat of Arms
Anthem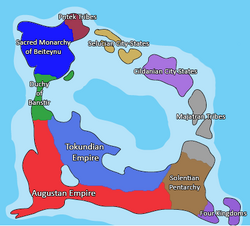 Capital
Čachtice
Languages
Old Tokundian
Demonym
Deltarian
Government

           Monarchy
Czar
First                           Štefan I (991-1013)
Last                           Štefan IX (1345-1397)

First                           
Last                           
Legislature
Area
Population
Currency

The Tokundian Empire (Old Tokundian: Цѣсарьство Токѹндьско Tsěsarstvo Tokundĭsko) was a medieval polity that controlled much of central Majatra between the 10th and 16th centuries. Founded in 991 with the crowning of Thane Štefan as Czar Štefan I, the Tokundian Empire was the first organized state of the Deltarian people after their arrival in Majatra. Throughout its history the Empire was ruled by the Tokundian tribe, which eventually led to a backlash from the other tribes that, in 1397, resulted in the expulsion of the Tokundians and the replacement of the Empire with the much more decentralized Great Deltaria.
Community content is available under
CC-BY-SA
unless otherwise noted.