Union of East Deltaria & Doron-Akigo


Zväz Východného Deltárska a Doron Akigo

| | | |
| --- | --- | --- |
| ← |   3457-3466   | → |


            Flag                               Coat of Arms
Anthem
The land to which we're born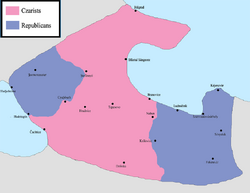 Map of the two sides at the beginning of the war
Capital

                     Naban (contested)
Languages

             Daralian, Alazindian, Ushalandan, Akigan, Dissuwan, Doron
Demonym
Deltarian
Government

           Provisional republican government


Provisional President


First                           Sir Roy Mathias
Last                           


Chairman of the East Deltaria & Doron Akigo Council


First                           Mark Baker
Last                           
Legislature
Area
Population
Currency

The Union of East Deltaria and Doron Akigo, also known informally as East Deltaria, was a republican and anti-Czarist government in Deltaria, engaged in the Deltarian Czarist War against the Deltarian State. The Union was formed when the provincial assemblies of Alazinder, Dissuwa, and Doron Akigo, dominated by the republican Deltarian Central Alliance, seceded from the Federal Republic of Deltaria as a result of the 3455 elections, which returned a large Czarist majority to the National Forum. The Union of East Deltaria and Doron Akigo saw itself as a provisional government, aiming to reform itself as the Commonwealth of Deltaria upon victory in the Czarist War. With the victory of Czarist forces in the war, the Union of East Deltaria ceased to exist as a government.
Community content is available under
CC-BY-SA
unless otherwise noted.