Walatom S.A.

Type
Public
Industry
Nuclear Energy
Founded
February 4256
Headquarters
Nowogard, Valruzia
Key people
TBA
Products
Nuclear Energy
Services
Production and Distribution of Nuclear Energy; Development of Nuclear Facilities
Revenue

▲

VPO$241.43 billion (4256)
Net income

▲

VPO$33.45 billion (4256)
Owners
Government of Valruzia (100%)
Subsidiaries
Energia (12.5%)
Employees
45,700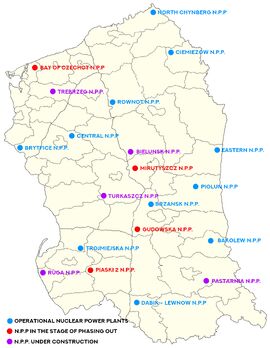 Walatom S.A. (abbreviaton of Walruzyjski Atom - Valruzian Atom) is a state-owned enterprize in the Republic of Valruzia responsible for production of nuclear energy, maintanence and operation of all nuclear reactors in the country. It is one of the strategic companies of the Valruzian State Treasury. Walatom S.A. operates 15 nuclear power plants across Valruzia and several research facilities with research nuclears. Despite company leadership's intention to export its services abroad, the council of ministers refuses to allow for broadening the Walatom's operations. 
History
[
]
Walatom S.A. came into existence in February 4256 after nationalization of serveral private power generating companies and their unification with a former National Department of Nuclear Energy Production (Narodowy Departament Produkcji Energi Atomowej).

The Company had to face numerous problems at the begining of its operation. Many plants were underfunded, therfore causing danger for the energetic security of Valruzia.
Today Walatom is one of several state-owned companies reciving subsidies from the National Economic Fund. Next to WKN Volantis it is one of the biggest benneficiaries of the Fund, with anual subsidies of approximately 19 billion valruzian pesos.
Operation
[
]
Walatom is responsible for operation of 15 nuclear power plants and construction of 5 new power plants, as well as several research facilities with research and experimental nuclear reactors. In total, Walatom is in control of over 100 nuclear reactors.