Outdated Template In Use!
Please note that the template that you are using is outdated. This may cause issues with the template, the page and the wider Particracy Wiki! Please the current list of supported and up to date templates located here: Templates Manual of Style. If you need assistance please contact Wiki Administrators Jamescfm or Auditorii via the in-game forums or Discord.
Wolf's Guard

Wolfsgarde

Leader
Thomas Armbrüster
Founded
3489
Dissolved
Active
Headquarters
Karlsborn, Grozvic
Nation
Dundorf
Ideology
Autocracy, Revolutionary
Political Position
Right
International Affiliations
N/A
N/A
Colours
Black, White, Violet
Website
knp.dun.org/wolfsgarde
The Wolf's Guard (Dun. Wolfsgarde) is the primary paramilitary force of the 
Imperial National Party of Dundorf
.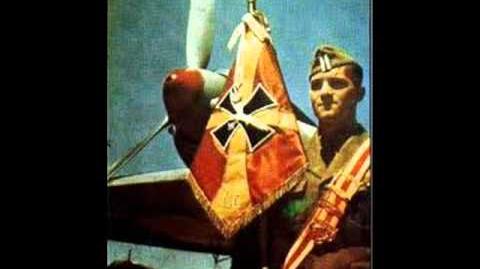 The organizations was first founded in 3489, during the so-called "Orange-Black Year". At the time, the organizations primary purpose was to aid the MFD and the DNVP in searching for, and getting rid of, the socialists plaguing the nation. However, a swift socialist victory in the Reichstag put an end to that conflict before the Wolfsgarde could be deployed.
Since then, the Wolfsgarde has served as the primary paramilitary, youth and student wings of the Imperial National Party. During the Civil War of 3498-3503, they made up the bulk of the Dundorfian Republican Army.
Since the civil war, the Wolfsgarde has seen inflated recruitment numbers, reaching a zenith of a half-million men. The Party has started using the Wolfsgarde as a tool for involvement in other states, as evidenced by their involvement in the Selucian Civil War.
Leadership
Edit
Leadership of the Wolfsgarde

| Leader | From | To |
| --- | --- | --- |
| Ruprecht Alphonsus | 3489 | 3497 |
| Felix Denikin | 3497 | 3503 |
| Ludwig Koenigsmann | 3503 | 3542 |
| Thomas Armbruster | 3655 | --- |
Engagements
Edit
3489 - Limited involvement in the attempted coup by the Monarchists and DNVP
3498-3503 - Made up the bulk of the Dundorfian Republican Army in the war against the Dundorfian socialist government
3508 - Involvement in the Selucian Civil War
Community content is available under
CC-BY-SA
unless otherwise noted.